The identity of the Eagles' starting quarterback on Sunday afternoon is yet to be determined. Though Michael Vick was limited participant in practice on Tuesday afternoon and says the health of his hamstring is improving, Nick Foles took the crucial first-team reps during team drills – two days after he led the team to victory in Vick's absence against the New York Giants.
"It felt good," Foles said of practice. "It always feels good getting reps. No matter what day it is out here, whoever I'm running with. I enjoy it. I cherish it. I always want to get better, so today was another opportunity to get better and I felt like we did."
Regardless of what happens with Vick and his health, Foles emphasized that this week is no different for him in terms of his preparation.
"My expectation's to work great today, get a lot of work in, study the film, and whatever it is on Sunday, I'll be ready," Foles said. "I'm staying ready no matter what … My mindset does not change. I approached today like I've approached every day, and I'll continue to do that."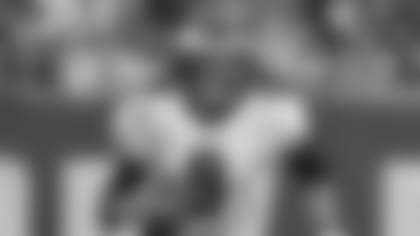 It is that same mindset that had Foles ready to go at a moment's notice against the Giants and which enabled him to smoothly direct the offense with command and precision. Foles does not allow himself to be consumed by the idea of being the starting quarterback, and his one-day-at-a-time approach reflects the one-play-at-a-time approach he carries on the field.
"I don't even let my mind go there," Foles said. "I can't control that. All I can control is what I did today to get better. Then whatever happens on game day – it's like last game day, when I got the opportunity to go in (against the Giants), I'm going to worry about that play. You block everything else out to where you really get rid of the clutter and focus on that moment. Everything else slows down, and you can see it and react instead of thinking five plays down the road or we need a touchdown. I think about this play, what can I do to make this play the best play ever and then move forward. Sometimes it's not launching the ball, it's looking, looking, checking down and getting some yards and then taking the deep ones."
Three of Foles' most impressive throws against the Giants, including the two touchdowns, involved perfect ball placement and throwing his receiver open. He read the one-on-one matchup, trusted his receiver to make a play and released the ball quickly, before the intended target had even made his break or looked up. In the NFL, the ability for a quarterback to throw his receiver open is paramount to sustained success since very rarely will the latter gain considerable separation consistently.
"Quick release is really important," Foles said. "But it's really just getting through your reads and once you see it – a lot of times we're throwing the ball before the guy's even breaking, before he's in the hole. That's where timing comes in handy. In high school you can really wait until guys are open, college sometimes, and in the NFL not usually. Usually, you have to throw them open … Getting the reps, you get a feel for your receivers, how they run their routes, what they're good at, so you know how to throw them open. It's really important, timing's everything."
Similarly, Foles spoke about being "efficient" in the red zone, and how success in that area depends on quickly reading the defense and releasing the ball since space and time are even more constricted than usual.
"When you're in the red zone, you really have to be efficient with your reads," Foles said. "Everything speeds up a little bit and you have to be sharp. It's a quick decision, it gets a lot quicker down there, your drops cut down, ball has to come out quicker. If it's the run game, the running back has to find the hole quickly and get it in the end zone. I think the key to the red zone is being efficient, keeping that tempo, getting through reads quickly and being sharp with them."
Though he fondly remembers last season's last-second win over the Buccaneers in Tampa Bay and described it as "special," Foles does not dwell on the nostalgia too much because, to him, it does not have any bearing on this upcoming game.
"It's a new season, it's a new game," Foles said. "They're ready to go. Both teams have some new players, some new everything, so it's a new game. (Last year's game) really doesn't help us at all. It was great last year, but this year it's a whole new deal. We really have to be sharp this week and really have a great week of preparation and get ready for them because I know they're going to be ready to play."
Foles does not take the Buccaneers lightly, despite their 0-4 record, as he knows that team could very easily be 3-1. The Eagles will have to be on top of their game to beat a dangerous Bucs squad that is rested, ready and hungry to get their first win coming off the bye.
 "I know we're going to go into this and we're really going to have to be on our game," Foles said. "They're coming off a bye week, so we really have to have a great week (of practice) and be sharp because they're going to come to play."