The situation is very cut and dried in every NFL city: Rosters sit at 75 players. They must be reduced to 53 players by Saturday at 6 p.m. There is no other way around that fact, and for nearly a third of the roster here, the times are challenging. Players who have been here for months, who have reported for work every day, who have adhered to the strict principles laid forth by their respective coaches, know that they could be out of jobs in a matter of days.
Everette Brown has been there. A second-round draft pick by Carolina in 2009, Brown played two seasons there and was waived prior to the start of the 2011 campaign. He went to San Diego and didn't stick. Same with a trip to Detroit.
The Eagles signed Brown after a workout late in the 2012 season and here he is, rushing the quarterback off the edge, learning the nuances of the Bill Davis defense, and hoping that he plays well enough at MetLife Stadium on Thursday night to convince the coaches that he deserves a spot on the roster.
"It's all about production in this league. I'm looking forward to Thursday. It gives me another chance to produce and show the coaches that I deserve to be here," said Brown, who has a pair of sacks in the three preseason games. "When I was younger, I may not have handled it this way. But I've been through it. There is a lot of tension for everyone. I know and I've talked to my parents about it: If I know that I have given it my all every day, every single day, then I sleep at night. I'm sleeping fine.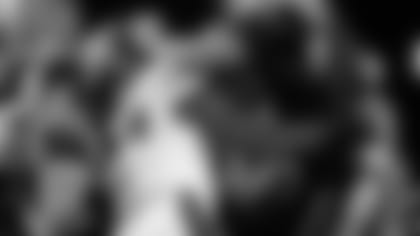 "You can only control what happens day to day. I count my days here starting at April 1, and I've been here every day working hard. I hope that is enough."
Maybe it is and maybe it isn't. The Eagles have some great competition across the board, and the numbers are the numbers.
The situation is the same at wide receiver. Greg Salas has caught just about every pass thrown his way since practice began, but he knows that the coaches look at every part of the equation -- how a player fits in at the line of scrimmage, at the importance of special teams, at an emergency situation, at how a player might adapt should he be inactive for a few weeks at a time and then suddenly get the call to play, and perhaps how a player can help the team in the daily practices as a member of the scout team.
There are many factors, in other words. Salas has experienced in all in a very short period of time. He was a draft pick in St. Louis and had a productive rookie season -- 27 catches in 6 games played -- in 2011 before he was traded to New England prior to the 2012 campaign. Waived midway last season, Salas went to waivers and was claimed by the Eagles.
Now he's holding out hope that he will earn a roster spot and some traction here.
"It's a little stressful, but you try not to think about it. Just think about what you have to do every day and go out and do your best," said Salas. "The thing is, there is so much to focus on as far as daily assignments and the job, that I don't have time to think about the other stuff. If I miss assignments, I'm not going to have a job. It's as simple as that.
"I'm looking forward to Thursday a lot. It means a lot to me. It gives me a great opportunity to make some plays. I feel like things have gone well, but you never know. I haven't thought much about my situation. I'm looking at it day to day and going about my business. That's all I can do."
Cary Williams has been there. He was a small-school college player who signed with Tennessee and was cut, then added to the practice squad and eventually to the active roster and then cut again. Picked up by Baltimore, Williams worked his way up the ladder.
A fine 2012 season catapulted Williams into free agency on a high, and he signed with the Eagles on the first day he was eligible to do so.
Williams knows what it's like to be on the roster edge.
"I was in that position a couple years ago, trying to fight for my life in the NFL. The fourth preseason game is huge. It's monumental for your career. You want to go out there and play the best game you possibly can," said Williams. "You may be exhausted, you may be on every special teams, you may be on every defensive snap, but your heart has to be big and your want-to has to be there. You have to have an undenying relentlessness about finishing this game and doing your job to the best of your ability.
"I think Coach is going to look for that. That fearlessness, that tenacity. I think Coach is going to look for guys going out there, despite whether they're tired or not, giving it everything they got. It's about effort. This last preseason game is about it and it's really filling in the last, final spots on the roster. So you have to do it by any means necessary.
"It's uneasy every day. This isn't different from any other job in America. We have to worry about our job each and every week, each and every day. It's nothing that tells us that we need to be comfortable. It can be a gift and a curse in a sense. You just have to understand that you have to just go out there and just do you, be you, play with passion, play with enthusiasm, have fun. This is a game that you've been blessed to play and you can't take an opportunity for granted."