Brett Favre's record-setting career can't help but make opposing defenses stand up and take notice, and Jim Johnson's unit has done just that. In fact, you might say Favre has brought out the best in the Eagles defense in recent years.
"Guys have always had such a respect for him, the coaches and the players,"" said the Eagles' defensive coordinator. "I've always felt that the concentration was so much better that week because they really studied Brett Favre. They were up for the game.""
Of course, the stakes won't be nearly as high when Favre leads his new team, the New York Jets, into Lincoln Financial Field tonight in the preseason finale for both teams. However, It's uncertain just how much the NFL's all-time leading passer will play.
"It'll be different," Johnson said. "I'm so used to seeing that Green Bay No. 4 jersey. I probably won't recognize him. I'm going to have to wait until he takes his helmet off before I recognize him. It'll be a little different."
The term "different" does not nearly describe the circumstances by which Favre arrived in the Big Apple this summer. In fact, if Favre and the Packers had defeated the Giants last January, maybe Favre isn't wearing a different shade of green. But after an abbreviated retirement in the spring, Favre filed for his reinstatement and was eventually traded to the Jets.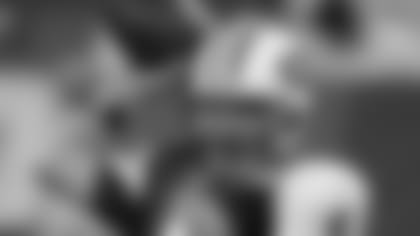 QB Brett Favre
Johnson, for one, understands the 38-year-old Favre's desire to return.
"For a lot of guys, it's hard to give up for the last time," Johnson said. "Some guys want to do it, but they don't have the ability. He's still got the ability to do it. He's still a very young man at his age. He still has one of the strongest arms in football.
"I hope he has success with the Jets because I want him to go out on top - not necessarily beat us in the Super Bowl - but I want him to go out on top because he's good for the NFL."
Favre nearly went out on top last season with a young, emerging cast in Green Bay. The 2007 season started with Favre directing his 37th fourth-quarter comeback, a 16-13 win over the Eagles at Lambeau Field. While it wasn't the most majestic of Favre's fourth-quarter comebacks, it still featured the instinctive, improvisational plays that have been the trademark of Favre's storied career.
On a third-down play, Favre somehow stepped out of one tackle, sidestepped another and at the last second got off a shovel pass to running back DeShawn Wynn, who took it 18 yards to help set up a Packers field goal.
"He just has that feel for the game. He's always been like that," Johnson said.
As a starter, Favre is a lifetime 5-7 in the regular season against Philadelphia, He has thrown 12 touchdowns and 20 interceptions and has been sacked 28 times.
"It's a combination of coverage and pressure with him," Johnson said. "We've been able, at times, to get some pressure on him. That's the key. We've come up with some big plays against him. Sometimes you guess a little bit, and we've been right."
Johnson, indeed, guessed right with a blitz in overtime of a 20-17 Divisional playoff win on Jan. 11, 2004.
"Brett was trying to make a play downfield to help win the game," Johnson recalled fondly. "We happened to have the right blitz on and pressured him and (Brian) Dawkins came up with the big interception."
Favre had one of his worst days as a pro back on Dec. 5, 2004, a game where the Eagles routed the Pack 47-17 in front of the home crowd. Favre completed just 14 of 29 pass attempts for 131 yards. He was intercepted twice and sacked three times before giving way to backup Craig Nall.
Still, the respect is and has always been there for No. 4.
"To have an opportunity to play against a guy of that caliber you really would like to have one of your best performances," said cornerback Sheldon Brown, who picked off Favre in the 2004 win. "I wouldn't necessarily say you get up extra for it, but if you can get one of his balls, then that's one of the balls you're going to keep forever. That's a guy that you grew up watching and saying, wow, how great he is."
Even though Favre's quarterback rating dipped into the 70s two of the last three years, his career rating of 85.7 is hard to beat. His durability, too, is unmatched.
"You have such great respect for him because he's a Hall of Fame quarterback," Johnson said. "Our players respect him."