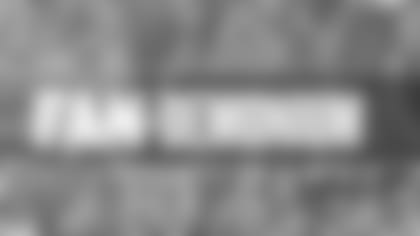 As Jordan Matthews raced toward the end zone, I wanted to shout, but found myself waiting for those dreaded words, "There's a flag." This has been that kind of season for the Eagles.
Luckily, there was no flag. The blocking was clean. Matthews used a great route to get wide open over the middle of the field. The downfield players did their part, also with clean blocks. Touchdown. Victory. Lots and lots of shouting.
Sunday's dramatic win gets the Eagles to .500 and they sit all alone in second place in the division. For a team that started the season 0-2, that feels pretty darn good. The game also dropped the Cowboys down to 2-6 and put a huge damper on any playoff hopes they had, which were already somewhat of a long shot.
I'm sure some fans weren't thrilled that the Eagles needed to go to overtime to beat a team that had lost five straight games and was missing their starting quarterback. While Dallas didn't have Tony Romo, that team played like their season was on the line. Beyond that, anyone who has watched enough NFC East games over the years knows that records don't always matter. The 1998 Eagles were an awful team. They went to Dallas and almost beat the division winners in a late season contest. Division games bring out an extra level in teams.
The Cowboys also had some big breaks in Sunday night's game. That Hail Mary pass to Dez Bryant was a mixture of skill and luck. Then there was the play where Brandon Graham stripped the ball from Matt Cassel and it was right there for the Eagles to recover and possibly take control of the game, but Dallas fell on the ball. The game-tying field goal at the end of the game hit the upright and bounced in. How often does that happen? There were a couple of questionable penalties on the drive that set up that field goal.
The Eagles earned that win.
The Eagles hadn't really won a game quite like this in 2015. Against the Jets, the Eagles got up 24-0 and then held on for the victory. The Eagles blew out the Saints and Giants. This was a game where the Eagles were challenged all night long, and they responded every time. It is tough on a team when the game stays close the whole way through. You can't relax at all. You can't breathe. Every snap feels important. Every drive feels critical.
Think about some of the Eagles who had to step up in this game. Jordan Matthews had struggled with drops all season long. He also wasn't delivering big plays. Matthews had only two catches of 30 or more yards all year. Against Dallas, Matthews had a 34-yard reception and the game-winning 41-yard touchdown. He also added a 28-yard catch. There were no drops. Matthews played his best game of the year.
The last time Dennis Kelly started at right tackle, Robert Griffin III looked like the best young quarterback in football and Chip Kelly was worried about finding talented high school kids to play at Oregon. You sure wouldn't know that based on the way Dennis Kelly played on Sunday night. He started at right tackle and played well. He looked comfortable and natural. I thought Greg Hardy might eat him alive in pass protection situations, but Kelly more than held his own. Kelly had a very good game. He got the best of Demarcus Lawrence on quite a few run plays.
Jordan Hicks returned to the state of Texas for the first time in his NFL career and made a lot of people sad that he ever left. With Dallas driving and the score tied at 14, Hicks jumped a pass route to the outside. He picked off Cassel's pass and ran it back 67 yards for a touchdown. When was the last time an Eagles rookie linebacker made a play like that? Was the Magna Carta signed yet? Had the Earth finished cooling off from the Big Bang explosion? That was a great play. Hicks later tore his pectoral muscle and is out for the year. He made two impact plays against the Cowboys this year that they won't forget any time soon.
Caleb Sturgis caught a ton of flak for some critical misses in the Washington game. If he kicked better, the Eagles might be 5-3 instead of 4-4. You can't erase the past. Sturgis did miss those kicks, but he came up big against Dallas. He nailed a 53-yard field goal with 1:46 to give the Eagles a three-point lead. I couldn't help but think back to the opener when Cody Parkey missed a late field goal and that basically sealed the win for Atlanta. This time around Sturgis was the kicker and he delivered in crunch time.
We also have to talk about Sam Bradford. He played his best game of the year. There were no interceptions. He generally made good decisions and got the ball to the right guy. Bradford made some terrific throws, especially down the right sideline. He hit DeMarco Murray and Zach Ertz for big gainers with perfect passes. Those guys helped him out by making tough catches. The passing game delivered chunk plays. There were six gains of 27 or more yards. These were mostly intermediate throws where receivers helped out Bradford by adding yards after the catch, which is exactly what you want. Intermediate throws are more likely to be completed than deep ones. You also want to hit receivers on the move so they can turn into runners and really make something happen. Just look at the game-winning touchdown. Most of that came on the ground, not in the air.
There was a lot of talk about how the Eagles offensive line would perform. I already mentioned Dennis Kelly, but really the whole line had a terrific game. Bradford was only sacked once. He wasn't hit all that often. He mostly had a clean pocket to work from. The run game was good, as it has been in recent weeks. The Eagles now have four straight games with at least 158 rushing yards. I hope all the talk about what's wrong with Murray and has the league figured out Chip Kelly's scheme can finally be put to rest.
Lane Johnson started his first game at left tackle and he looked completely natural out there. You can see that will be his position when Jason Peters retires or possibly moves to guard in the future. The interior linemen also played well. I thought Matt Tobin and Jason Kelce each had some really impressive blocks. Line coach Jeff Stoutland is doing a great job this year. It took a little while for things to click, but the guys up front are controlling the line of scrimmage on a regular basis.
One play really stood out to me. There was a false start penalty on Matthews in overtime. That put the offense in a second-and-14 situation. Situations like that are tough for a team that loves to run the ball. I wondered what Kelly would call. Maybe throw to Ertz over the middle and try to set up a better third down situation. Instead, Kelly called a run play. Murray took the ball and went to the right side. He got upfield for a gain of 20 yards. Great call. Great blocking. Great run. That play really made me believe the Eagles were going to win. That put the ball out at midfield and showed how worn down the Dallas defense was.
Sunday night wasn't the greatest performance by the Eagles defense. Dez Bryant proved to be a handful and had his best game of the year. Cole Beasley gave the Eagles fits. He is so quick that it is tough to cover him. Malcolm Jenkins did his best, but is too big. E.J. Biggers came in the game at some point in the second half and did a good job on Beasley.
The run defense was too leaky. Darren McFadden rushed for 117 yards. Bill Davis said gap discipline and sloppy tackling were the big issues. I certainly agree with that. You do have to give Dallas some credit. They have a good line and there were some plays where they got good push. That said, there were too many plays where defenders weren't in the right spot or failed to make the play. Sometimes players can be too fired up and that can cause them to be sloppy.
Brandon Graham did have a good game. He beat left tackle Tyron Smith twice for strip sacks. The Eagles weren't able to recover either fumble, unfortunately. Graham had seven solo tackles in the game. He flew around the field and really was impressive. There was one bad moment where he was called for taunting after a big third down stop by Cedric Thornton. That cost the Eagles 15 yards, but no points. Still, not a smart move by Graham.
This really was a total team win. The offense did their part. The defense did their part. Special teams did their part. Rookies, veterans, new guys and old Eagles all made big plays. The challenge is now for the Eagles to build on the win. Go beat Miami and get above .500 for the first time all year. Sunday night was great, but the Eagles have to keep winning for that game to really mean something. Maybe that dramatic win is what it takes to push this team in the right direction.