The Eagles gathered for the first time as a team on Monday, filling the auditorium of the NovaCare Complex to hear head coach Chip Kelly address his players before they met by position, had dinner together and learned a little bit about what is expected as the offseason conditioning program began.
"All energy, straight energy," said linebacker DeMeco Ryans. "Coach started speaking and everybody -- everybody -- was right there on every word. No doubt everybody is excited about a fresh start and what lies ahead for us."
There are no promises here, and the coaching staff's message -- from Kelly to the whole team to each coach to each player within that position group -- was very direct and clear: This is going to be about hard work and improving every day and winning as a team.
There are no proclamations about wins and losses or any of that nonsense. It's April, anyway, and the Eagles who were here last season remember how awful the 4-12 campaign was and they are not looking back.
"I don't even want to talk about last year," said Ryans. "It's over. It's long in the past. Everyone starts new now."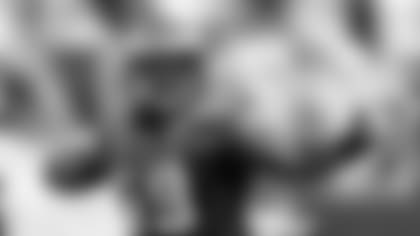 For the first time since Kelly was hired, way back in mid-January, the NovaCare Complex was alive with players roaming the halls and meeting with coaches and talking football. Real football! The days have passed since Kelly's hiring with so much chatter about what could be, what may be, and for the players who have followed from afar, unable per NFL rules to talk to coaches about X's and O's and real football talk, Monday was the day the lid was lifted and a piece -- a very small piece -- of the plan was unveiled.
"It's a pretty exciting feeling. A lot of us have been pretty anxious waiting to hear what kind of philosophies we were going to implement as far as training and schematics," said offensive guard Evan Mathis. "After this initial meeting, the feeling is even more exciting for me. I loved what I heard about how we're going to be doing things.
"It's going to be structured and very well planned out all across the board. It seems like they put together an incredible staff and it definitely gives us a lot of reason to be excited."
Mathis admits that it was, honestly, a bit frustrating not having the chance to barge into the Complex and talk to new offensive line coach Jeff Stoutland about his ideas for coaching the line of scrimmage. Does he want fast guys? Strong guys? Fast and strong guys who can road grade and get to the edge and lead a sweep?
Well, the curtain opened on Monday night and Mathis came away revved up and ready to go.
"Yeah, I was a little bit frustrated. I wanted to know. Our job is playing football and we didn't even know what kind of football we are going to be playing until now," he said. "At least, we have some idea now. There's no way to translate an entire theme in one night. It seems to me like everyone came in here with a lot of urgency ready to grasp the new concepts and hit the ground running. We're going to be going full speed training and learning the schemes."
Wide receiver Jeremy Maclin has trained full speed for weeks, understanding through the grapevine and from what he heard of Kelly's regime at Oregon that to play in Kelly's offense requires full attention and tip-top physical conditioning. He is raring to get it going.
And for Maclin, day one was as he felt back in his school days with all the new kids and the new teachers at the head of the class.
"It was like that, really. The first day of school. Your first day at a job," he said. "We have a lot of new faces, so it was a chance to meet those players and coaches. I'm really looking forward to seeing how we put this thing together. The coaches have great intentions. It looks promising to me.
"We're all excited to see how it works. I think Coach wants his playmakers to make plays, and I'm all about that. I've had a busy offseason, a lot of good things going personally and with my training, so I'm ready to go.
"I think everyone is ready to go. It's been a long time since we've been together. This is the first day of the season for us. That's what it feels like."
For the players, like center Jason Kelce who is freshly shaven and will now start growing his season-long beard -- "It's the first day of the season, so the growing season begins, too," he said -- every step is a new one with the coaching staff. For the coaches, who have been drawing up schemes and discussing personnel, Monday was the first time to make eye contact with their guys, to actually put a face and a body and a personality with the paper plans.
Clearly, the mood was one of a new beginning, of unlimited possibilities for the future.
"Yeah, last year is a long time ago," said Mathis. "We're way beyond that ... thankfully. It's all about moving ahead and growing as a team now."