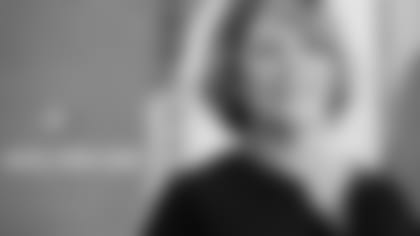 In each edition of Employee Spotlight, we profile a member of the Eagles' front office. This week, we introduce fans to Joyce Iman. Forty-three years ago, Iman began working for the Eagles in the ticket office and transitioned to the accounting department. After several years on the job, Iman was promoted to director of accounting where she spent the next 30 years of her career. Over the last 10 years, Iman has continued to work in accounting, but scaled back on her workload in order to spend more time with family and friends.
Where are you from? Springfield, Pennsylvania.
What college did you attend? I attended Widener and studied accounting.
How did you get your start in the sports industry? I assisted a friend who was with the Eagles and have been here ever since.
How has technology impacted your career?When I started, everything was on paper. We literally had to write all journal entries, add everything with calculators, etc. Technology has eliminated a good amount of human error and has made our operation much more efficient. As a result, less time is spent on doing the work and more time can be spent on analyzing the work and what it means.
Who is/was your role model/mentor in business?My role model in business is Dick Vermeil because of his work ethic and love of people. I remain friends with him to this day. I was most impressed by his ability to take a collection of lesser-known players and through hard work and dedication mold them into a Super Bowl participant.
What is the best part of your job? The people I work with.
What is the most challenging part of your job? The most challenging part of the job is learning to not get upset about negative comments about the team's performance. It can be very easy to take these comments personally.
What advice would you give to someone who wants to work in sports? If you really want to work in sports, you should find an area of expertise and figure out how you can apply that to a sports franchise.  You need to bring a skill set to the franchise, whether it be accounting, facility maintenance, etc. 
Were you once an athlete yourself?No, but my late husband was a terrific NFL athlete and coach. (Ken Iman played in the NFL for 14 years with the Green Bay Packers and Los Angeles Rams. He was a member of the 1960 Packers team that lost to the Eagles, but won back-to-back NFL titles the next two seasons. Iman was the Eagles' special teams/offensive line coach from 1976-79 and the offensive line coach from 1980-86.)
What is your favorite part of gameday? The excitement after a win.
Favorite Eagle of all time and why: Wilbert Montgomery and Harold Carmichael because of their humility. They were two of the most talented athletes to play in Philadelphia but were two of the most humble human beings I have ever met.
Favorite memory on the job: Not moving the Team to Arizona.
Favorite Eagles game: The Eagles' 1980 NFC Championship Game vs. Dallas played on January 11, 1981. I will always remember Wilbert Montgomery's touchdown run as the Eagles beat the Cowboys 20-7.