As a rookie in 2007, Tony Hunt, taken aback just a little bit, needed to take some time to think.
Here was a guy, he thought to himself, who's second on the all-time rushing list of a big-time college with a major football tradition. He's a running back that gets better as the game goes on, a veritable bowling ball that picks up more strikes as defensive pins tire from getting in his way.
And the Eagles want him to play special teams? Something he had never done before? "Apprehensive" might be the most polite word to describe what was going through Hunt's head.
But after a year in the NFL, mostly spent observing the action from the bench, Hunt has matured, he said. In theory, his maturation is the only reason he has a job.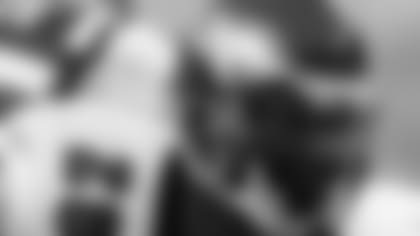 FB Tony Hunt
In his second season, the fact that he was a third-round pick a year ago is irrelevant. His 654 bruising carries at Penn State paled in comparison to the team-leading four special teams tackles during the 2008 preseason. Hunt won a job at fullback, a position he had never played before, by excelling at something he practically scoffed at doing as a rookie.
Funny how things work out.
"I spent the year on the sidelines the last year, and I learned. You spend a year on the bench, and you're looking around like, 'Hey, some guys are playing that might not be the best players at their position.' But special teams gives them that boost," Hunt said. "If you can play special teams, you'll always have a spot somewhere on somebody's team."
The key, Hunt said, was realizing how many players have to pay their dues before getting onto the field with the first-team. Other than the rare, privileged first-round pick, he said, most have made a mark on punts and kickoffs, in some capacity. "A stepping stone," he described it.
Brian Westbrook? Check. Sheldon Brown? Check. All three starting linebackers? Them too.
Hunt might have seen the writing on the wall when the Eagles brought in the versatile Lorenzo Booker to supplement Westbrook's attack. And Correll Buckhalter, amazingly, didn't show signs of slowing down yet. So, despite showing up to camp out of shape, he played his way onto the roster.
"Once you get past your starting two, your first and second tailback … it's a stretch to get out on the field," Hunt said. "I really like the situation now. It's just an opportunity for me to really go out and play."
His big game against Carolina a few weeks ago might have forced the coaches' hand to move him to fullback, but it was his special teams play that made the move practical. At least for now, it seems as if the coaches are OK with the other aspects of the fullback job falling in line a bit later.
Make no mistake, Hunt probably isn't in the position he envisioned himself at as a first-day selection a year after the draft. But he is a starter on an NFL team.
"You set goals for yourself," Hunt said, "but the No. 1 goal is to get on the field, however you can get on the field."