This is one of those situations where nothing needs to be said.
None of the veterans feel like they have to enlighten the younger players about the magnitude of Sunday's NFC Championship tilt at University of Phoenix Stadium in Arizona.
Instead, vets like safety Brian Dawkins and quarterback Donovan McNabb have led the way they always have: by example.
There's no need for team meetings at this time of year.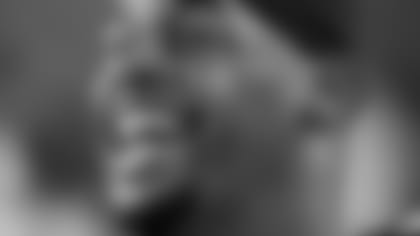 McNabb and the Eagles are having fun now, but they will need their focus on Sunday
"I don't sit down and have a 'huddles-up and let's talk,'" Dawkins said. "We don't do that. Just whatever time you feel led to speak to a guy about a situation, you talk to him. This situation is no different. For the most part, with your actions you show more than anything you can say. Some of your biggest sermons will be your actions and not your words, so I try to lead by things I do on the field."
Apparently the young guys have followed Dawkins' lead. According to McNabb, he hasn't seen any reason to pull a player aside to let him that he needs to buckle down and focus.
McNabb, who like Dawkins is playing in his fifth NFC Championship Game in eight years, wants to show the young guys how to handle the pressure and seize the opportunity rather than try to explain it to them ahead of time.
"The thing that excites me for this week is the fact that I haven't seen anything to kind of present that to them yet," McNabb said. "These guys have really just kind of treated it just like we have and I think the most important thing for us as veterans on this team is to show them first. Show them how to prepare yourself. Show them how to attack and approach practice and show them that it's not affecting us by any means of the pressure playing in an NFC Championship."
Part of that is just McNabb being McNabb. Head coach Andy Reid said that it's important to keep things as normal as possible and to let a player's personality shine through in these pressure-packed games.
"Preparation is important," Reid said. "Then you do what got you there; don't change. Don't change your personality. You let your personality show and go play."
If anybody on the Eagles doesn't have problem showing his personality, it's Donovan. McNabb likes to keep things loose even when he finds himself in the tightest of spots.
"Myself and a couple of the other guys have just come out being loose and being able to execute, reading our keys and having a great time in the process."