There was no sense moving out of the fourth spot with Lane Johnson still on the board. No need to get tricky. No need to out-think themselves. The Eagles had four players in mind as the draft began and would have been pleased with any of them - offensive linemen Eric Fisher, Luke Joeckel and Johnson, as well as linebacker/defensive end Dion Jordan -- and when Miami traded with Oakland to move into the No. 3 slot to take Jordan, it was an easy choice.
Johnson, the tremendously athletic offensive tackle from Oklahoma who played quarterback in high school and who has the explosiveness to have played defensive end with the Sooners, is now an Eagle. And while we all want to project Johnson as an instant starter at right tackle -- he is likely to have a chance to win that job -- head coach Chip Kelly correctly said at his post-pick press conference that Johnson needs to earn his playing time.
Johnson was a no-brainer pick, really. How in the world could the Eagles pass up a player with so much athletic ability and, in the words of Kelly, has "more upside" than any of the offensive tackles in this draft?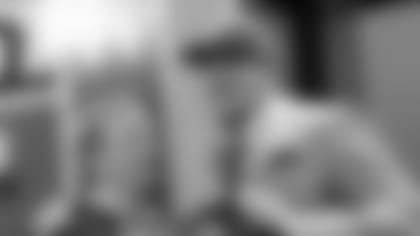 This wasn't a sexy draft pick, and in the end it wasn't one that seemed anything other than right. It was logical, it was a good fit and Johnson gives the Eagles another big, strong and athletic offensive lineman for Kelly's offense.
What is fair to expect from the offensive line? If you've read this space the last several months, you know that the offensive line was the first priority here. Having a good offensive line is one thing, having a very good group is even better and having a great offensive line is something that can turn this offense into something special. And the Eagles have a chance to be great along the line of scrimmage with the addition of Johnson.
It isn't all about Johnson alone. The return to good health by left tackle Jason Peters, center Jason Kelce and guard/center Todd Herremans instantly boost the offensive line, and the drafting of Johnson makes it even deeper, more talented and certainly more athletic.
Add in some young players who have a lot to prove in former first-round draft pick Danny Watkins, guard/tackle Dennis Kelly and center Dallas Reynolds gives the offensive line, on paper, more depth and versatility than they've had in many seasons. How it all shakes out remains to be seen, as new offensive line coach Jeff Stoutland gets to know his personnel.
Stoutland is one of the most respected offensive line coaches in the game, and what he accomplished at Alabama as he built a dynasty at the line of scrimmage is admirable. He has some nice pieces with which to work as he digs in here, and the Eagles are going to be much improved up front.
That means a lot for quarterbacks Michael Vick, Nick Foles and Dennis Dixon. Whoever wins the starting job -- and it is far too early to even hazard a guess -- is going to benefit from having an improved offensive line. We don't yet know the design of the offense, other than, as Kelly says, its goal is to be an equal-opportunity scoring machine. With a great offensive line, isn't the sky the limit here? Isn't it going to make the quarterback's job infinity easier to execute with some time in the pocket and some running lanes for the ground game?
That's what this draft pick means. The Eagles didn't add a playmaker, per se, but they added a player who is going to make life so much easier for DeSean Jackson and Jeremy Maclin and LeSean McCoy. The Eagles now have 15 offensive linemen on the roster, and it could be that they are done adding players there as they set the table for training camp.
What happens in rounds two and three? The Eagles could still add to the offense -- tight end, anyone? -- or they could get back to addressing the defense with some help for the front seven. Look at the defensive line and think about who is starting there. Is, for example, Cedric Thornton ready to be a starter in this league?
The Eagles have eight more draft picks and they have some positions to address. With the third pick in the second round, the Eagles can go in any number of directions, and they met late into the night on Thursday discussing plans for Friday.
Round 1 was a success. The Eagles got their guy, someone who will help this offense play the way Chip Kelly wants. Lane Johnson was the right pick at the right spot in Round 1, and now we wait for the second day of the draft and the plans the Eagles will make.