Almost seven years after their first NFC Championship Game appearance as Eagles, seven Eagles remain on this year's roster in a similar position.
The now-wily veterans – David Akers, Correll Buckhalter, Brian Dawkins, A.J. Feeley, Donovan McNabb, Jon Runyan and Tra Thomas – were wide-eyed youngsters in late January 2002, as they prepared to take on a St. Louis Rams team loaded with experience and removed just two years from a Super Bowl title.
The same septet – with the exception of Feeley, who took a three-year detour beginning in 2004 before returning to Philadelphia – is now preparing for its fifth NFC title game in eight seasons, this Sunday at Arizona. Though four seasons have past since the last of these games, the Eagles still have a lot of experience handling the pressure of the semifinal. In the last trip, the Eagles – led by these veterans – finally figured out how to win it.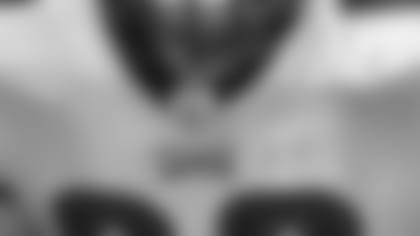 This will be Runyan's sixth conference championship game
And the veterans will be the core group again, should the Eagles advance to Super Bowl XLIII.
"If we go out and do our job and win this game, then I'll be able to rank the NFC Championship (games). But, you know what? It's tough to say right now," McNabb said. "We're just enjoying the moment right now; not looking further by any means and just counting the days down until we get an opportunity to step out onto that field."
To the same veterans, this NFC Championship is an opportunity, but not an honor. They expect to be here – going to five in eight years might do that. That first game in the 2001 season was different. Sure, it was an opportunity to shock the world against the turn of the century's dominant team, but it came on the heels of an impressive playoff run, engineered by youngsters, that fell short. It was a let-down, sure, but it was also perceived as the beginning of something special nonetheless.
But as the years passed, that sharp disappointment turned to numb disbelief. After the 29-24 hard-fought loss at St. Louis, the now-favored Eagles dropped back-to-back NFC title games at home – 27-10 to Tampa Bay in the 2002 season and 14-3 to Carolina in the 2003 campaign.
But the Eagles rallied. And the next year, finally, the Atlanta Falcons fell. The Eagles went to Super Bowl XXXIX. So these vets have won this game. Four years later, it's business as usual.
"It's exciting when you think about it. It's a situation that a lot of people are never in," said Runyan, who's actually playing in his sixth career conference title game. In 2000, his last year with the Tennessee Titans/Oilers organization, his team advanced to Super Bowl XXXIV.
"But, in the same way, I'm going to go out there and throw my body for four hours. It's another day."
Still, the urgency does remain. How much time does this crew have left?
All have their motivations. McNabb's are obvious. Runyan has lost two Super Bowls in his career, and his contract is expiring. So is Thomas'. Akers has 18 consecutive postseason field goals with no rings to show for his NFL record.
Buckhalter has been on the team's roster every season since 2001, but injuries forced him to miss three full seasons – including the NFC Championship Games against Tampa Bay and Atlanta, and Super Bowl XXXIX.
Different stories, one goal. That's the way it always seems to be.
"You look around this locker room and there's going to be guys who retire, there are free agents (whose contracts) are going to be up and there are guys who are just not going to make the team next year," Akers said. "You don't know if it's you, but you look around at all the nameplates and it's going to be totally different next year. It's now for this team to do it. The only time we have is now."
These veterans, though, have trust in the youngsters making huge impacts – the linebackers, Brodrick Bunkley, Mike Patterson, DeSean Jackson, Trent Cole – and the sort of in-between veterans that haven't been around with the team or as long in the league yet still know the agony of defeat: Quintin Mikell, Sheldon Brown, Lito Sheppard, Kevin Curtis, Darren Howard.
In reality, it's the perfect mix needed for a championship. But they still need two more wins.
Dawkins said he doesn't just want the players to play for the old vets, he wants them to play for themselves. It's an "I've got your back" mentality, one the tenured Eagles have been chirping all season.
And the time is now, more than ever, to put it into action.
"I want them to try to win it for all of us. I put in a lot of time here – absolutely. But I'm not the only one. There are other guys on this team who have put in a lot of time, played through some stuff, played through some injuries and put up with a lot of stuff on this football team," Dawkins said. "I appreciate them. I think they know that I appreciate them, because I tell them that I appreciate them. I tell them that I love them, and those are not just words for me."