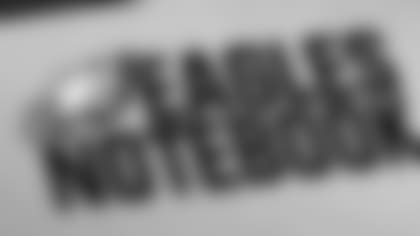 Here are some additional news and notes from Sunday's 26-7 win over the Seattle Seahawks ...
Correction ... Brent Celek was incorrectly given credit for having the highest single-game yardage total by an Eagles tight end in a regular season game. That distinction belongs to Pete Retzlaff, who was converted to tight end during the 1962 season when a rash of broken arms plagued the Eagles tight end position. Retzlaff, who also played fullback and wide receiver during his career, has the top six single-game performances by an Eagles tight end, including a 204-yard effort vs. the Redskins in 1965 ...Therefore, Celek's 131-yard performance on Sunday at Seattle was the best by an Eagles tight end in the regular season since November 28, 1965, when Retzlaff gained 148 yards at St. Louis
Winning the Battles Up Front ... This Sunday night's match-up between the Eagles and Giants features two of the NFL's top teams in terms of sack differential. The Giants lead the league with a 20 rating in that category as they have sacked opposing quarterbacks 30 times, while allowing just 10. The Eagles, meanwhile, are tied for 3rd with Denver in that category at 14 (27 sacks, 13 allowed). Tennessee is ranked 2nd with 18 (22, 4) ...The only two teams that have sacked opponents quarterbacks more frequently than the Eagles (27) this year both reside in New York. The Giants have 30, while the Jets have 28. Pittsburgh enters tonight's game at Washington with 25
Keeping McNabb Clean ... Through the first eight games of the 2008 season, the Eagles have allowed one sack per 23.8 passing attempts (13 sacks in 297 attempts). The best ratio in team history occurred in 1981 when the Eagles permitted one sack per 22.6 pass attempts (22 sacks in 476 pass attempts)
Green Akers ... Eagles K David Akers sits atop the NFL in points scored with 80 ...Akers, who has 19 field goals and 23 extra points so far this year, has connected on his last nine field goal attempts. His 19 field goals are tied for 2nd in the NFL behind only Tampa Bay's Matt Bryant (20). Akers (2002) and Paul McFadden (1984) share the Eagles single-season record for most field goals with 30. Akers also owns the team record for most points in a season with 133 in 2002.
Keeping It Close ... The Eagles have not had a double-digit deficit in a game in 16 consecutive contests dating back to a 38-7 loss to Dallas on November 4, 2007. During that span, the Eagles have trailed by 9 points on just three occasions (10/12/08 at San Francisco, 10/5/08 vs. Washington, and 11/11/07 at Washington) and have compiled a 10-6 record
Rocking Rocca ... After dropping two more punts inside the 20-yard line yesterday at Seattle, Sav Rocca now has 14 on the season, with only one touchback. Among NFL punters with at least 10 punts inside the 20-yard line, Rocca's 14-to-1 ratio of punts inside the 20 to touchbacks is the highest mark in the NFL (Chicago's Brad Maynard – 20/2; Pittsburgh's Mitch Berger – 14/2).