While the COVID-19 vaccine is readily available for adults who want to receive it, the stark reality is that there are people who are unable to get to the places that distribute it.
Through an ongoing partnership with the City of Philadelphia to help make COVID-19 vaccinations more accessible, the Philadelphia Eagles teamed up with the Philadelphia Fire Department to host a mobile vaccination clinic on Saturday, June 19 (Juneteenth) at St. Paul's African Methodist Episcopal (AME) Church. All residents who live or work in the City of Philadelphia, 18 or older, were eligible to receive the one-shot Johnson & Johnson COVID-19 vaccine.
"There are so many people in our city who just don't have the means or accessibility to get out and get vaccinated, so it's important that we bring these services to them," said Eagles Legend Barrett Brooks, who was on hand for the event.
Representatives from the City of Philadelphia's Health Department were at the event to answer questions about COVID-19 and the vaccine. Several elected officials showed their support, including Congresswoman Mary Gay Scanlon, Senator Anthony Williams, and State Rep. Regina Young.
Brooks was joined at the event by SWOOP to add to a fun and engaging atmosphere filled with giveaways and Eagles merchandise. Dietz & Watson was onsite cooking complimentary hot dogs and sausages, and Dunkin' provided gift cards for all guests in attendance.
"I think it's amazing what the Eagles, the Philadelphia Fire Department, and the city are doing out here in Eastwick today. To also have groups like Dietz & Watson and Dunkin' on board really shows that we're all in this together supporting one another," Brooks said.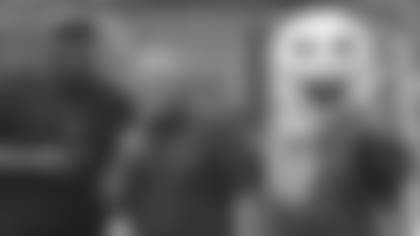 To celebrate the Juneteenth holiday, Evelyn Graves Drama Productions performed a tribute to Harriet Tubman, who rallied the troops at Camp William Penn with a stirring speech during the Civil War. Located just outside of Philadelphia in Cheltenham, Camp William Penn was the largest African American training facility in the nation at that time. Those troops from Camp William Penn helped secure the surrender of General Robert E. Lee's Confederate forces in Virginia before going to Texas to escort General Gordon Granger, who freed the last remaining slaves on June 19, 1865, now recognized as Juneteenth.
In addition to their work with the city, the Eagles and the Eagles Autism Foundation provided a sensory-friendly environment for 1,000 individuals with autism, their caregivers, and families to receive vaccinations in March at Lincoln Financial Field.