Here is a breakdown of the Top 10 tight ends available in the 2009 NFL Draft ...
1. Brandon Pettigrew, Oklahoma State
Ht: 6-5.5 Wt: 263 40-Yard: 4.85 Year: 5-Sr.
Scouting Report: Pettigrew is a terrific tight end who possesses natural receiving skills, and he gets results as a blocker. He's very efficient in all areas of the game, and he is a consistent tight end rather than a true playmaker. He offers starting potential at the next level, and if he consistently plays at a high-level, Pettigrew will have a long NFL career.
2. Jared Cook, South Carolina
Ht: 6-4.6 Wt: 246 40-Yard: 4.44 Year: 4-Jr.
Scouting Report: Cook's game has been on the rise the past two seasons and he's quickly moving north up draft boards after a terrific Combine performance. He's a speedy tight end with size, pass catching skills and the ability to break games open. Cook is a little rough around the edges yet offers a terrific amount of upside and has the ability to be a dominant tight end in the NFL if he reaches his upper level of potential.
3. Chase Coffman, Missouri
Ht: 6-5.5 Wt: 244 40-Yard: 4.78 Year:Sr.
Scouting Report: Coffman is a reliable prospect who possesses consistent hands and a good head for the position. He's not a spectacular player, rather very solid in all aspects of the game and Coffman could eventually develop into a starter on the NFL level.
4. Shawn Nelson, Southern Miss
Ht: 6-5 Wt: 240 40-Yard: 4.56 Year: 5-Sr.
Scouting Report:Nelson is a terrific athlete at the tight end position and a prospect who consistently makes big plays down the field. He offers a great amount of upside potential, and he could turn into one of the more complete tight ends to come from this draft once he improves his blocking.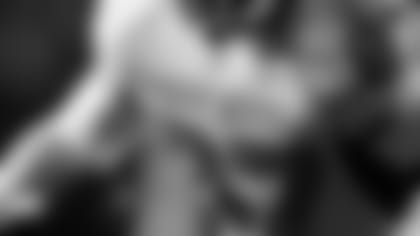 Oklahoma State's Brandon Pettigrew
5. Cornelius Ingram, Florida
Ht: 6-4 Wt: 245 40-Yard: 4.65 Year: 5-Sr.
Scouting Report: Ingram was one of the higher-rated prospects at the tight end position coming into the season, before his senior campaign was cut short. He's a solid athlete who would be a good fit for an offensive system such as the one run by the Indianapolis Colts, yet he must display that he is back to full health and improve on his game from where he left off in 2007. A mid-round choice, Ingram could end up as one of the better bargains in this year's draft.
6. Dan Gronkowski, Maryland
Ht: 6-5.5 Wt: 254 40-Yard: 4.71 Year:5-Sr.
Scouting Report: Gronkowski is a terrific athlete with a lot of upside potential. He's could quickly find a home as a second tight end in the NFL, and he has all the tools necessary to develop into a No. 1 at the position.
Grade: Third or Fourth Round
7. James Casey, Rice
Ht: 6-3 Wt: 246 40-Yard: 4.72 Year:3-So.
Scouting Report: Casey is a terrific athlete who's played seven different positions on the Rice football team. He possesses good size/speed numbers and is a natural pass catcher who should work well for a team that employs a move tight end.
8. Travis Beckum, Wisconsin
Ht: 6-3 Wt: 243 40-Yard: 4.61 Year: Sr.
Scouting Report: Beckum is a terrific athlete and an outstanding pass-catching tight end who's been Wisconsin's go-to receiver the past three years. He's best suited to a system that will put him in motion and reduce his blocking responsibilities. Although not a tight end for everyone, Beckum could be a productive starter in a West Coast/timing offense.
Grade: Fourth or Fifth Round
9. Cameron Morrah, California
Ht: 6-3.5 Wt:244 40-Yard: 4.56 Year: 4-Jr.
Scouting Report: Morrah is a terrific athlete who's yet to become a complete football player. He displayed a lot of flashes of skill last year at California, and he really should've stuck around one more season to improve his game. He'll likely be selected in the late rounds as a developmental prospect, and he could find his way onto a roster as a third tight end initially. Morrah's ability to quickly improve on the field and play with a higher degree of consistency will dictate his future in the NFL
Grade:Fourth or Fifth Round
10. Anthony Hill, North Carolina State
Ht: 6-5 Wt: 262 40-Yard: 4.75 Year: 5-Sr.
Scouting Report: Hill offers outstanding size at the tight end position, and he has shown enough ability as a blocker and pass catcher to make it as a No. 2 at the position. He must show durability, increase his intensity and be more consistent to reach the level of ability NFL scouts believe he has.
Grade: Fourth or Fifth Round