You would think that after last weekend's 52-20 loss to the Denver Broncos, the Eagles would be sick of seeing a Manning on the other side of the line of scrimmage. Peyton Manning threw for 327 yards and four touchdowns against the Eagles defense last week, exploiting any mistakes that were made by the unit. Of course, the Eagles don't catch any breaks this weekend as they prepare to face Eli Manning and the New York Giants on the road this Sunday.
The younger Manning has not gotten off to quite as hot a start as his older brother, though. He has completed just 56.3 percent of his passes, and his nine interceptions lead all NFL quarterbacks. Though the brothers play in different offensive systems and are playing at much different personal levels, Trent Cole believes that there are similarities between the siblings.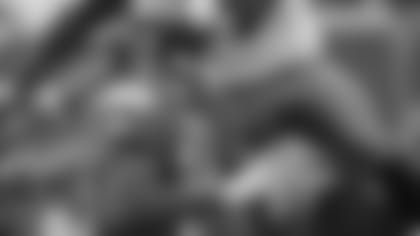 "I know Eli is probably going to his brother and trying to get some tips, but every game is different, said Cole. "Every team goes in and makes their changes and does what they have to do to clean up their mistakes … He'll do the same things. He'll do all of his checks. Eli is another one of the great quarterbacks in the NFL. He's an offensive coordinator on the field too."
Connor Barwin has never played against the younger Manning, but from watching the film, he finds the Giants signal-caller to be a much different player than his older brother.
"They're both really good quarterbacks but they're different," said Barwin. "Eli's a little bit more mobile. Peyton does more audibles than his brother, but they both can make every throw out there … When he gets hot, he's as hot as anybody. He can throw the ball deep as well as anybody, but he's gotten pressure a little bit here early in the season."
One common thread repeated by defensive players in the locker room was the important of creating pressure. DeMeco Ryans, for instance, knows that Manning can be dangerous if given time.
"We have to get to him," said Ryans. "We have to put pressure on him. Eli can make all of the throws. He's a Super Bowl MVP and a great quarterback, but we have to rattle him. We have to get him off of his spot and make him make decisions that he doesn't want to make, and we have to hit him when we get the chance."
Kurt Coleman also believes that making Manning uncomfortable in the pocket is the best way to defend the Giants passing attack, but he also said that the Eagles secondary must play well against Manning's talented receiving corps.
"If you can get after Eli early in the game, you can kind of get him rattled and he'll throw into tight coverages, but they've got two great receivers in Victor Cruz and Hakeem Nicks and he allows them to make plays," said Coleman. "He'll put it up there and say 'Go get it'. At times that works, and at times it doesn't … He hasn't changed. He's still a great quarterback. He can win games and he's very clutch especially when it's a tight situation."
Cruz has been a particularly difficult matchup for the Eagles defense in recent years. This season, Cruz has hauled in long catches of 70, 69 and 51 yards. The Eagles defense has done a nice job of preventing big plays this season, but Ryans believes that it will take a total team effort to contain Cruz.
"It starts up front with getting pressure on the quarterback and making him make erratic decisions," said Ryans. "In the back end, we have to stay deep in our coverage and not let anything get behind us. I think it's a combination of all of that- underneath guys getting deeper in zones, deep guys staying deep, and making sure that everything stays in front of us."
The Giants may be 0-4, and Manning may be struggling with turnovers, but the Eagles are fully aware that all of that could change come Sunday afternoon. They aren't taking any shortcuts as they prepare for a dangerous divisional rival and their veteran quarterback.
"(Their record) is a little bit surprising, but I've played against them for a few years now and I know what kind of team they are and what type of offense that they are," said Nate Allen. "Eli is a great quarterback. They've got Cruz and Nicks at wide receiver and a couple of great tight ends. They definitely have some threats and the way that they've been playing doesn't necessarily show what type of offense that they are."