Vinny Curry's rookie season was not what he hoped for. It was marked by being inactive for the first 10 games and then seeing sporadic playing time in the final six. However, if Friday night's preseason opener against the New England Patriots was any indication, Curry is primed to break out in 2013.
He was one of many Eagles who had to change positions to fit in defensive coordinator Bill Davis' new scheme. Part of that change meant transforming his body in order to adequately handle the physical demands of a 3-4 defensive end, as opposed to staying at his natural position as a 4-3 defensive end. Curry worked harder in the offseason than he ever had before to make sure he would be ready and able to play a large role in Davis' defense, and he notices a major difference from last season.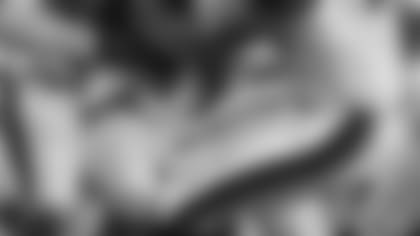 "(I'm) way more confident, way more confident in myself," Curry said. "I feel better with myself because this offseason, I feel like there's not another player who was out there working as hard as me. I bought in from the beginning, just worked hard, and I'm glad to see it paying off tonight."
Curry gained nearly 15 pounds from the end last season and now weighs 279 pounds. He displayed tremendous strength and power against the Patriots, combining both with quickness and explosion off the snap, neither of which he lost with the added bulk. He gave the Patriots offensive line fits on every snap and was utterly unblockable at times. The score sheet reads that Curry only registered two total tackles, half-a-sack and two quarterback hurries, but his impact went far beyond simple statistics. He lived in the backfield and harassed quarterback Ryan Mallett at every opportunity. Curry was, without question, the best Eagles defender of the first half; a force to be reckoned with – a force the Patriots could not stop. Curry utilized sound technique, something which defensive line coach Jerry Azzinaro preaches every day, and an array of pass rush moves to terrorize his opponent.
"I was using a stutter step, swim, arm-over, a couple of different things, just tried to get to the quarterback and apply pressure," Curry said. "I got a couple hits on (Mallett). The main thing is just do my fundamentals, two-gapping, and just have all my technique and not let the technique go out the window. It was fun."
The quality that has always best defined Curry is his non-stop motor, how he never gives up on a play and hustles through the whistle. For that reason, it was not a sack or a pressure or a stop behind the line of scrimmage that stood out most about Curry on Friday night. It was his remarkable effort on the final play of the first half, where, after getting into the backfield only to see a screen pass dumped off, he sprinted nearly 20 yards to chase down Patriots running back Leon Washington from behind. It was a seemingly inconsequential play, with the clock at triple zeros and Washington having a number of defenders still standing between him and the end zone 30 yards away. Nonetheless, Curry hustled and jumped on Washington from behind to drag him down and end the half. It was the perfect exclamation point to a brilliant performance and showed you what he is all about as a player. That motor, it never stops, right?
"No," Curry said with a laugh. "At least I try not to (slow down), unless I run out of gas."
Vinny Curry did not run out of gas Friday night. If anything, it looks like he has all the gas in the world in his tank for the 2013 season.