In terms of developing a young returner like Jeremy Maclin, special teams coordinator Ted Daisher said it's "a process" that is based heavily on ball security and making good decisions.
Maclin muffed a pair of return opportunities in the first two preseason games, and both the rookie and his coach know that it is unacceptable.
"It's a huge concern," Daisher said. "We can't have it. I met with him yesterday and he's aware of it. He understands the importance of ball security. It's the No. 1 thing we have to do.
"At the end of every punt and kickoff return, our No. 1 job is to make sure that our offense takes the field. And putting the ball on the ground, we can't do that."
Through two games Maclin has had 11 return opportunities. He's averaged 24 yards on seven kick returns and 7.5 yards on four punt returns. He also mishandled a punt return against New England and fumbled on a kick return at Indianapolis.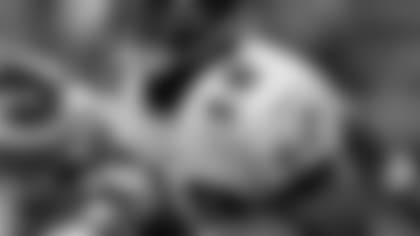 Rookie returner Jeremy Maclin
"He has to be more aware of when he's in traffic to secure the football," Daisher said. "That's what happened on the kickoff return. He was trying to make a play, running around in traffic, the ball got loose. We can't have that. That's something that has to get corrected immediately. We've addressed it, and he knows the importance of it.
"He's has to secure the football in traffic and he has to make better decisions."
Maclin understands completely and he is not making excuses for either of the miscues.
"There's no excuse for either one of them," Maclin said. "I'd rather get them out of the way in the preseason than in the regular season. Hopefully, we won't be seeing that again."
Maclin excelled as a return specialist at the University of Missouri, as five of his school-record 33 touchdowns came on returns.
Since the team drafted him, it was thought that Maclin could, at the very least, contribute on special teams during his rookie year and subsequently lesson the load on second-year players Quintin Demps and DeSean Jackson, who shined in those roles last season but figure to play more integral parts on offense and defense this season.
"It's a process. You have to develop," Maclin said. "You have to go through the phases, go through stages. That's why the preseason is here. That's what it's for."
Daisher attributes Maclin's hiccups to the rookie simply pressing, trying to do too much, and trying to make a good impression.
"I think he's trying to press and make a play," Daisher said. "I think every young returner, the young returners that I have been around -- like Josh Cribbs (in Cleveland) and Chris Carr in Oakland -- they want to make a play. You just have to make good decisions.
"That's the single most important thing in the return game. Your returner has to make good decisions, he has to secure the football and then his natural skills will go on and help him make a play."
Cribbs returned a punt 84 yards for a touchdown in Cleveland's preseason win over Detroit on Saturday night. While that news nugget is meaningless for Eagles fans, it's important to note that Cribbs had never returned a punt in his football life. That is, until Daisher arrived on scene two years ago and helped mold him into a Pro Bowl returner, a threat to score each time he touches the football.
"It took him well into the season before he was a good decision maker and doing the right things all the time," said Daisher. "He did end up third in the league in punt returns because he was a gifted returner. But it's a process and we've just got to get Jeremy through it."
"It's going to be a process in developing him as a returner."