One year later, Fletcher Cox is all grown up. He's been in the NFL for a season since the Eagles traded up in the first round of the 2012 NFL draft and selected a player who they felt had all the tools: The strength, the hands, the burst, and the toughness. Oh, and the desire to be a great football player at the highest level in the land.
Cox earned immediate playing time in his rookie season after the Eagles selected him 12th overall, and by season's end he was, without a whole lot of argument, the team's best defensive linemen.
Now he's in year two, settled into the Eagles' offseason conditioning program, and the expectations for Cox are high.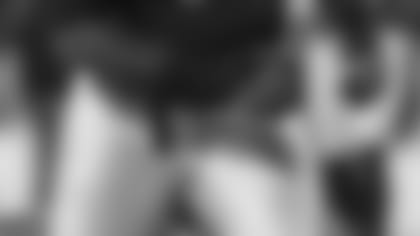 "He was really good last year. When we got him we know how incredibly athletic he was, but more impressive was his ability to play square, play stout," said general manager Howie Roseman. "He played in the run game with power as a 21-year-old, a rookie. That was the impressive part for us.
"We knew he had the ability to play on the other side of the line of scrimmage, but to get in there and play as well as he did against the run was so encouraging."
On this day, as Cox exits the NovaCare Complex following his workout and some lunch, he's at ease. A year ago Cox traveled the circuit, visiting as many as seven or eight teams he estimates, in the weeks prior to the draft.
Now he's hoping to make that big-time jump that so many think happens between years one and two in the NFL.
"Having gone through it for a full season, yeah, it's a different feeling," said Cox. "Everything last year was new for me. I prepared as best I could but I hadn't been through it. I think I did pretty well, and as the season went on I think I got better. I felt like I learned a lot every day and that helped me in the games.
"I know how it works now and I think knowing that is going to make me a better player this season."
The Eagles are counting on Cox in a big way, and they could very well move him up and down the line of scrimmage. He's going to play in the range of 310 pounds and he's powerful enough to play at defensive tackle or, in some situations and in a 3-4 scheme, strong and quick enough to play the edge.
Study how most interior rookie defensive linemen play and you see a group that struggles with strength and technique. These are young men coming into a league of experienced veterans who know how to use their hands and their leverage. Beyond the obvious physical challenges, the experience disparity makes a difference.
It wasn't that way with Cox. He wasn't overwhelmed, not for a minute. Even with all of the chaos on the coaching staff -- remember, the Eagles changed defensive coordinators during their bye week and then dismissed defensive line coach Jim Washburn late in the season -- Cox stayed on point.
He also battled through a painful tailbone injury and then, in the home finale, was sidelined with a concussion.
Cox is back, though, and the Eagles are going to build a lot of what they do up front around his talents.
"He brought so much versatility to our defensive front and that is something you can use to your advantage," said Roseman. "He made an impact as a rookie. He has a very bright future as long as he keeps working hard and putting his mind to it. We are excited about how he fits into the defense here."
Cox is one of those laid-back kids who goes about his business quietly. He doesn't brag or boast or chatter much on or off the field. He is exactly what you want in a defensive cog.
"I think we have a lot of guys who are going to rally together and improve," he said. "There's so much camaraderie happening here. We know we have a lot of work to do and we have to play a lot better than we did last year. For me, it's just great knowing I'm here, with guys that I love, and I'm excited about what's ahead."