The clock is ticking, Eagles fans.
On April 30th, the NFL Draft will kick off from Chicago, as NFL Commissioner Roger Goodell announces the latest class of NFL talent. To make sure that you're all set for when the Eagles are on the clock for the first time, we're counting down each day with look at each number from 100-1 and the significance that the number holds in Eagles history.
Without further ado, let's continue the countdown… Eagles' opponents challenged 10 plays in 2014, but fortunately for Eagles fans, only two of those calls were overturned. On the flip-side of that coin, the Eagles challenged six plays over the course of the season, with four of them getting overturned. First Eagle To Wear 10: RB Swede Ellstrom (1934)
Last Eagle To Wear 10: WR DeSean Jackson (2008-13)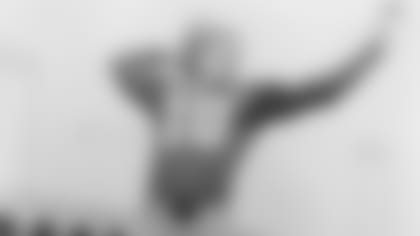 Adrian Burk started 37 games in an Eagles uniform during an era in which the team had a very tough time finding any success. The Eagles won just 15 games over six seasons with Burk at the helm, but there is one game in particular why Burk makes our countdown.
Burk had his most successful season with the Eagles in 1954, when he led the team to five wins in eight starts. One of those starts came in the Eagles' 49-21 victory over Washington on October 17th. That day, Burk tied an NFL record, which to this day still stands, by throwing seven touchdown passes. Burk was the first Eagles QB to accomplish this feat, which was repeated by Nick Foles in 2013.
In total, Burk played seven seasons in the NFL and was named a Pro Bowler on two occasions. He never quite lived up to his status as the second overall pick in the 1950 NFL Draft, but for now, his seven-touchdown performance means that he's a part of NFL history.