Mornhinweg: Breaking Down The Receivers
In breaking down what "wide receiver" actually means to the Eagles, especially in terms of rookie DeSean Jackson, offensive coordinator Marty Mornhinweg provided reporters with a little bit of a classroom session on Monday.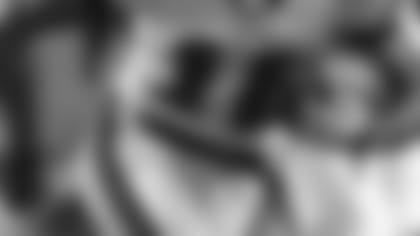 WR DeSean Jackson
Jackson, Mornhinweg said, is best suited for the flanker spot, the "Z" receiver in the Eagles' scheme. As a smaller guy, 5-foot-10 and 175 pounds, the flanker spot provides Jackson room to make a play. The flanker typically lines up a few steps closer to the backfield, off the line of scrimmage.
It's the position Reggie Brown usually plays, but his absence with a hamstring strain allowed Jackson to step in and start last Friday at New England.
"A flanker, not always but most of the time, is off the ball and available to move," Mornhinweg said. "He could be in the slot very easily, so he has a bit more room there with releases. The flanker spot is built for a guy like him as far as the basic routes and adjustments."
Most teams prefer to go with a bigger, more physical receiver at the split end, the "X" receiver. The split end lines up on the ball and will face considerably more press coverage than the flanker. Kevin Curtis is the Eagles' starter there, and it's where Terrell Owens excelled in 2004.
With Curtis out, Hank Baskett is the team's best fit, Mornhinweg said.
"Hank's a big, physical guy, and he plays all over the place," he said. "He's a really smart guy, but his main spot is that split end."
Segrest: Touchdowns Build Confidence
If the job existed, you'd have to pity the man whose task was to find a happier man in Foxborough, Mass., than Rory Segrest last Friday night.
After a 2007 season full of special teams struggles, and two unimpressive showings thus far in the 2008 preseason, the Eagles' special teams coordinator saw his unit explode for two return touchdowns and overall solid blocking and coverage in the Eagles' 27-17 win against the Patriots.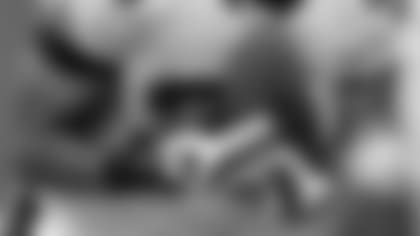 KR Quintin Demps
"I think it provides a little bit of confidence for our players, in knowing that we have the capability of getting that big return for the team," Segrest said. "Both from an offensive and defensive standpoint, creating that excitement on the sideline of: 'now, all of the sudden it could potentially become a bigger play for us.' "
Not surprisingly, a pair of guys who weren't in Philadelphia a season ago have provided the spark. Quintin Demps has now solidified his job as the team's No. 1 kickoff returner – he took one back 101 yards for six, just the second kickoff he saw since being named the starter earlier last week. And DeSean Jackson, never one to be outshined, just did, well, what DeSean Jackson does.
His 76-yard punt return elicited the same oohs-and-aahs a YouTube search of his name would provide, and when he dropped the ball lightly in the corner of the end zone after scoring, it might well have sounded the bell announcing the arrival of a much-needed playmaker in the return game.
For Segrest, he knows he has a couple of naturals on his hands.
"Again, like I said, one of the main things that we have going for us is speed. You don't necessarily have to have the speed to be able to get a good return; a lot of times it takes that speed to be able to pull away and create touchdown returns, going the full field," he said. "You see a lot of great returners that just have that vision, they have that change of direction. So, a lot of different components go into it."
Still, Segrest wants immediate improvement to some shaky coverage. Not only that, Segrest might be the most important coach on the staff during Thursday's game against the Jets – the last three or four players to make the roster will have to get things done on special teams.
"We're just trying to get as many young guys as we can on the field and get them the experience that they need going into the regular season," he said.
Johnson: Battle For Final Safety Spot
Just over four years ago, Marcus Paschal and Sean Considine manned the defensive backfield for the Iowa Hawkeyes.
This week, they could be battling for the final safety spot on the Eagles' roster.
With Brian Dawkins, Quintin Mikell and Quintin Demps each a virtual lock to make the team, either Paschal, Considine or J.R. Reed could find himself handing in his playbook before the season begins.
Defensive coordinator Jim Johnson said Demps' ability to play both corner and safety may allow the Eagles the flexibility to keep just four corners going into the season. That combined with Demps' contribution on special teams makes him a valuable commodity.
"We wanted to look at him a little bit at corner," Johnson said. "We still think he's maybe more of a safety, but he could play a little corner.
"To be fair to him, sometimes it's hard for a young guy to handle both. We wanted to look at it a little bit. Like I said, I hate to get into a numbers game right now. I'm not sure how it's going to work out, whether we keep five corners or five safeties, how many defensive backs or defensive ends."
According to Johnson, Reed and Considine have performed well during the preseason. Reed has rebounded from his 2005 nerve injury and Johnson added that Considine has recovered from a shoulder sprain that landed him on injured reserve last season.
"The biggest thing we know with Sean coming off of that injury, I think he showed the other night that he is physically ready to play," Johnson said. "I have confidence in both those guys at either position."
Paschal, who was signed as a rookie free agent before last season, played three games with the Eagles in 2007 after being promoted from the practice squad.
Dawkins, who sprained a tendon in his ankle during last Friday's win in New England, will be ready to go when the Eagles open the season against the Rams on Sept. 7.