It wasn't a typical assignment to cover on Tuesday, but it was impressive nonetheless. It was Media Day and the cameras and the reporters were there and Chelsey handled it all: The wind. The cold. The cameras. The onlookers.
"It's such an amazing experience to be part of that I didn't even think about the cold. I just blocked it out," said Chelsey, a third-year Eagles cheerleader who has been dancing since she was 5 years old and who now studies at the University of The Arts in Philadelphia. "I like performing. I've been doing every kind of dance since I was a little girl, so for me it was another chance to block out everything else and do my job.
"I loved it and I can't wait to see the calendar and how my shot looks!"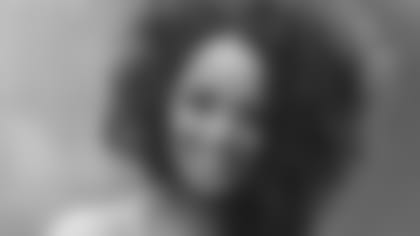 It is with such enthusiasm and derring-do that the 38-member Eagles cheerleading squad is assembling for a total of five intense shooting sessions to put together the 2013-2014 Eco-friendly calendar. The shoot takes place along the Hurricane Sandy-ravaged Jersey shore, from Cape May to Wildwood to Margate, Ventnor, Atlantic City and then Seaside Heights.
Chelsey posed in the shadow of the iconic Lucy The Elephant, which during the deadly week last October that claimed more than 200 lives and ruined thousands of homes and caused devastation up and down the coast stood as a beacon of hope and faith.
In fact, Chelsey stood on a table for her shoot, a table that had been covered with more than five feet of the beach as the storm tore through the gorgeous community that is Margate, New Jersey.
"The shore is such a special place for all of us and so many of the cheerleaders have special connections here," said Eagles director of cheerleading Barbara Zaun. "Many of them have affected by Hurricane Sandy and, of course, it is a very special place for our fans. We thought that through this year's project, in a very creative way, that we could showcase the beauty of the Jersey shore and also the resilience of these communities."
All of the net proceeds of calendar sales this year go to the Hurricane Sandy New Jersey Relief Fund.
"It's an important part of why we are having the project shot here," said Zaun.
As for the 38 cheerleaders, there couldn't be a more bonding and exhilarating experience. The Eagles narrowed the initial field of candidates from more than 400 to the final total of 38, and most of the cheerleaders have spent their lives as dancers, or gymnasts or as cheerleaders through their high school and college years. They work hard, they practice their craft and they have earned -- for many years now -- a deserved place among the most respected and admired in the NFL.
"The girls have a lot of confidence. They've been athletes and performance artists for their whole lives, and then you gain the experience of performing in front of 68,000 fans at Lincoln Financial Field and you understand how to deal with the pressure. You learn to love it."
There are seven rookies on this year's team, and many of them have the experience of their first-ever photo shoot this week.
"They are so excited to shoot and one of the things we share with them is that our calendar is so unique in the NFL. It's one of the most successful and unique calendars in the league -- it's our fifth year of being Eco-Friendly -- and so the girls know that just to be a part of it is a great honor," said Zaun.
"This took a great deal of planning and I'm proud that we're going to show off the best of the Jersey Shore. We have included some landmarks and we've seen some of the unspoiled beauty of the beach."
Each shot takes about an hour to produce, and there are 38 shots in all with 16 cheerleaders featured with a month. It promises to "wow" when it's unveiled in late Summer.
"Just to be associated with this, and with the Eagles is such a thrill," said Chelsey, who grew up in South Jersey. "Every minute you appreciate it and you make the most of it. It's something I will remember for the rest of my life."