It wasn't that long ago that Everette Brown was a really big deal. He was a star at Florida State. There were expectations, in fact, that he would be a first-round pick, and that he went in the second round of the 2009 draft to Carolina didn't dampen any expectations: He was an explosive, pass-rushing defensive end who had the speed to turn the edge and get to the quarterback.
"Coming out of college, going back to play in my home state, you couldn't tell me I wouldn't finish my career there. It didn't work out that way, for sure," said Brown. "I was fortunate to play with some great veterans who taught me a lot about how to take my game to the next level. As I've matured, those lessons have really hit home.
"As much as I thought I was mature coming out of college and that I knew a lot, but now I realize that wasn't the case. I've had to set aside my pride and I've had to learn how to look in the mirror and understand that I don't have the answers. I don't think I know everything anymore."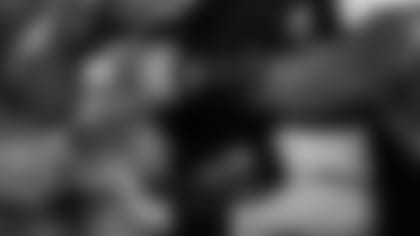 This is a humbling business, and Brown understands that as much as any player. He played for two seasons in Carolina and started just three games and compiled 6 quarterback sacks, and then the Panthers changed their coaching staff, changed their defense and Brown was gone.
He played in three games in 2011 with San Diego and since then, well, Brown has been searching for the next opportunity. He hasn't played in an NFL game since November, 2011. Brown spent all of 2012 waiting for the phone to ring after his preseason attempt at making the Lions roster fell short.
Brown worked out for the Eagles late in 2012 and then got the call on New Year's Day, 2013. He signed a couple of days later.
And he's here, a hopeful in a new defense trying to resurrect his NFL dreams.
"Physically, I think I have maintained my speed and I have gained weight and strength, and I feel like I'm more in control of my body now," said Brown. "I have improved with my hands. In the NFL, I can win all day with my feet, but if you don't have your feet and your hands winning the battle, you aren't going to beat the man in front of you.
"In college, you can run around the blocker. You can't do that here. I feel like right now I'm playing my best football, and I'm eager to show the coaches that. I think that we have a new coaching staff and that everybody here is going to have a fair shot. That's all I want, and that's all any player can ask for."
Brown has learned the hard way, as many young players do. Maybe he thought he could out-talent everyone on the field, but that doesn't happen at this level. Every player is great. Every player is talented. Every player is fast and strong.
Maybe Brown figured that being a high draft pick would guarantee him more time with the Panthers, but the wins went south and the Panthers sent head coach John Fox packing and new head coach Ron Rivera didn't have Brown in the plans.
You learn very quickly that the NFL is a business and Brown understood that loud and clear last year when he tried not to go stir crazy. He worked out and stayed in shape and waited for a team to call. He also started, for the first time, to wonder about the next phase of his life.
"I looked at business ideas and purchased a franchise, Tropical Smoothie Cafe, that I'm looking to open in Charlotte in July. I managed my time and kept my mind sharp. I didn't want to sit there and have regret and wonder what could have been," said Brown. "I kept my body going and my mind going and I was realistic. I said, 'What's really going on.' I said, 'You're on a team and you're doing well and then all of a sudden, you're gone.' What happened? Then I'm in San Diego getting spot duty, but still quality reps because I've learned that every rep in the NFL is a quality rep, and then that's over.
"I was in Detroit and I thought it was going good, and then all of a sudden I'm not on a team. You have to ask yourself about the future. You have to be realistic. I love the game and I want to play, and so I'm so fortunate that the Eagles gave me a chance to work out. I'm here to take advantage of this opportunity. I feel like I can get back on track -- rushing the passer, doing the things I'm asked to do, playing every down, and then having the chance to play on Sundays."
Brown's chances to make the team are largely undefined. Everything is new here, and there is no official depth chart. The pads haven't even come out of the equipment room. But Brown is at the NovaCare Complex every day working, taking his reps in the workouts, hoping to catch the coaching staff's collective eye.
At 263 solid pounds, Brown is as heavy and as fit as he has ever been. He is going to likely have a chance to make the team as an edge pass rusher, because, after all, that's what he has always done. Whether he has his hand in the dirt as a 4-3 end or lines up in space as a 3-3 linebacker, Brown must demonstrate that he is far advanced from the hot-shot rookie who thought he knew it all coming out of Florida State.
"What we're doing here is not traditional in terms of training or our approach to football, and that's good. It's exciting here. It's all about getting our team to the next level," said Brown. "I'm taking it all in. I've bought in totally. I want to be here, no matter what it takes.
"I look back and see that I was so close minded coming out of college. I've changed completely. It used to be that it was all about getting into the backfield, but now I know there are other responsibilities on the field, different packages that the coaches feel work better in certain situations.
"I have a shot. Give me a fair shot. Then it's up to me to go out and perform at a high level and impress the coaches. Every day I touch that door to coming into this building, I'm not leaving until I become a better player."