Wide receiver Jason Avant wrapped up a two-hour training session which was followed by additional work on the JUGS machine to fine-tune his vice-grip hands. It was not until he was asked about working with assistant defensive backs coach Todd Lyght to learn a little defense that he became even the slightest-bit fatigued.
Yes, Avant and tight end Clay Harbor pulled a little bit of double duty last week. Avant worked as a nickel cornerback, while Harbor took some reps as an outside linebacker. The Eagles are not reaching into their past trying to unearth the next Chuck Bednarik. It's all about preparing for a potential emergency now rather than later. Head coach Chip Kelly is innovative, but he's certainly not a pioneer in this regard. Last season, the New York Jets used Antonio Cromartie as a receiver in addition to his full-time cornerback job. The Patriots have used multiple players on both sides of the ball from Troy Brown and Julian Edelman to, unfortunately for Eagles fans, Mike Vrabel.
"You don't ask a guy like that something that they can't handle, so it's a compliment for (Kelly) to feel that I can be there on offense, basically a starter on offense, and go out and be able to do some things just in case of emergency," Avant said. "You have to have a lot of confidence in a person like that. I took it as a compliment and it definitely is a compliment."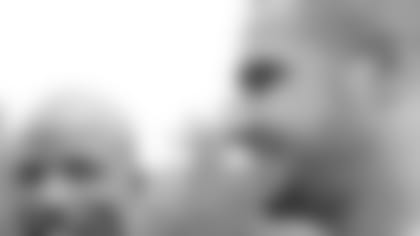 Harbor also stressed that it's for emergency situations only. Harbor said his work came during a Phase 2 session, so he lined up against air instead of another tight end. In addition to helping the defense in a pinch, it will help the fourth-year tight end have a better understanding of how defenders try to stop him. Harbor learned the depth the linebackers drop in different coverages, which stances they use when they are going inside or outside. Most importantly, Harbor learned some potential signs to looks for if a linebacker is going to blitz.
"You know what you need to do to get open," Harbor said.
The moves simply make sense. There are 53 players on the active roster and eight on the practice squad. Only 46 players can be active on game day. If a position group is ravaged by injuries, you can bring up someone from the practice squad but then someone has to be released. This allows for some flexibility, again, in an emergency situation. Although, Avant did impress the defensive backs with his work.
"He's incredibly skilled," safety Kurt Coleman said. "The first time I saw him do defensive back drills I was really impressed. He's got great feet, great hips and obviously his hands speak for themselves. He can play. He can play both sides."
Avant isn't focused on making a career switch. He wants to be the best football player - not just receiver or defensive back - that he can possibly be.
"Football is football. Coach Kelly is a football coach. When you are a football coach, you like guys that do everything right, tough guys," Avant said. "No matter if you are running a fast offense or slow offense, up offense or down offense, football players all coaches like and that's what I try to become is a great football player. That's what I always have done."
The eighth-year receiver has made a living going through the jungle of the middle of the field to move the chains. He isn't resting on his laurels assuming his experience will earn him a spot on the roster. Not at all. Avant is embracing the opportunity to adapt to the new culture being implemented at the NovaCare Complex.
"Old things are passed away; behold, all things that will become new," Avant said citing a verse from the Bible. "You can't worry about what happened in the past. You have to perform today. I'm learning that I have the willingness to learn and compete. I don't care about what I did in the past. (Kelly) doesn't care about that. Nobody else cares. ... It's about what you're doing right now,"
Even if it's playing on the defensive side of the ball, Avant and Harbor will answer the call to do whatever it takes to help the team.