One arduous winter in Philadelphia was enough to send Eagles punter Arryn Siposs searching for windy weather to train in during the offseason.
Lucky for him, his hometown of Melbourne, Australia is also home to a strong bay breeze, which proved to be the quintessential conditions for practicing his drop and lengthening his hang time – aspects of his otherwise solid punting routine that he aimed to fine tune before Training Camp.
"In all honesty, every opportunity I got to go out there when it was windy, I took it. That's the only way I can get better at my game," said Siposs. "The last few weeks, it wasn't quite there. There were a couple of games where we punted from shorter distances and the averages weren't there. And then other times, I was absolutely horrible, particularly against the Cowboys. And that's just unacceptable."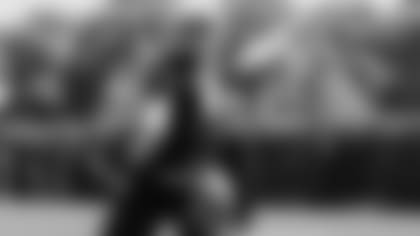 His quest for wind was a quest for consistency – a trait which his special teams counterpart, Pro Bowl kicker Jake Elliott, sets the standard. Elliott completed 30 of 33 field goals and all 44 his PATs, recording a career-high 134 points during the 2021 season.
Regardless of his notable success, Elliott knows the challenges that unpredictable Philadelphia winters impose on the kicking inside Lincoln Financial Field.
"It's a tough place to kick. It's a tough place to punt. So it's something you really have to experience in order to get better at it. You can't just go out anywhere and train that way," Elliott said.
Siposs is entering his second year as the Eagles' unrivaled punter on the special teams committee, due in part to his responsibility as Elliott's holder.
"Jake went over 90 percent last year, and part of my role is being the holder. He did a phenomenal job last year, and I like to think I have some part in that," said Siposs.
Siposs' commitment to improvement despite the lack of competition at his position has reflected onto the practice field and those around him have noticed.
"I've been able to see him not only during camp but the whole offseason, before OTAs, going into OTAs, the whole summer. He's changed a couple of things here and there that have really dialed everything back and made it more consistent and more compact," said Elliott.
"I think he's coming into this season with a lot more confidence and he's hitting the ball really, really well right now. So it's fun to watch and it's fun to be a part of."