We're in the phase of the offseason where the newness of all of this change has faded into an intense curiosity to discover what the Eagles are truly capable of being in the 2013 season. It is the feeling I have as the Organized Team Activities end at the NovaCare Complex, leading into next week's mandatory full-team minicamp. After that, the veterans are basically on their own until training camp begins in late July, while the rookies finish their conditioning program for another handful of days here.
So there is a lot going on with the Eagles, and there are a lot of questions, and the buzz is steady and the hunger is insatiable.
Some are frustrated by that. There are some out there who want to know right now who is going to be the starting quarterback and what schemes the Eagles are going to operate and just how the Eagles plan to navigate through the regular season ahead. Then there are those of us who understand that after 14 seasons of Andy Reid and the drumbeat that became so familiar, the change would bring with it a long period of time during which the team needed to re-invent itself into head coach Chip Kelly's vision.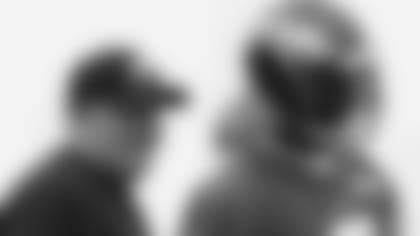 It's funny to hear the questions fired at Kelly on a weekly basis. Reporters are doing their jobs, searching for answers, and they probe Kelly to see what answers he is able to offer. Each time the question comes his way, Kelly answers as honestly as he can, and for many asking the question, the answers just don't provide enough definitive information.
Take the latest round of questions Kelly answered on Tuesday following practice. The quarterback position again came into focus, and again Kelly deferred on coming close to establishing a depth chart for the media.
"When you have to make an important decision on who a starter is going to be in some position, I don't think it's 'Why should we jump to conclusions?' Why do we need to name a starting quarterback in May? I mean, we're going to take the full amount of time that we have to make a thorough evaluation of what we do," said Kelly. "When you make big decisions like that, I don't think you want to make a rash decision. You want to give everybody the opportunity to see what they do.
"Right now we haven't done a thing in front of officials. We haven't done anything except we've had three days of voluntary mini-camp before the draft, and today was our seventh OTA. So none of us have had any thoughts of hey, we've got to get a guy named by a certain point in time. It will play itself out.
"It will play itself out over the course of time when we've had an opportunity to make a thorough evaluation. It is a big decision. When you make a big decision, you have to take your time and let it play itself out on the field. So we're not looking at it like that. They rotate on a daily basis. Billy (Lazor, quarterbacks coach) will tell you who will play in each group and they'll just go out and play."
And that's the right answer, the only one that makes sense. Kelly wants to see all of his players get as many practice reps as they can get so that he and his coaching staff have as much data as possible with which to fairly grade the players on the roster. The Eagles have had three days in pads -- no contact, by the way -- and that's just not close to enough information to process to determine who starts where and who makes the team and who the coaches like and don't like.
The game isn't played in shorts, so how much of the OTAs really matter?
What is important now is that the players and the coaches take all of the little steps together that are going to lead to the big decisions made late in the summer when the Eagles put a depth chart in place, line up for preseason games and go about determining the best 53 players for the season ahead.
So when defensive coordinator Bill Davis talks about how much he thinks the players are absorbing his scheme because he sees them playing faster and getting to the right spots more often, he also understands that when the pads go on the perspective of the game is entirely different. When defensive backs coach John Lovett says he wants his players to be physical, he knows he won't find out for sure how physical they are until the games count. When offensive line coach Jeff Stoutland comments on the progress his group has made, he knows that all of the dancing is setting the stage for what is to come in training camp and well beyond.
This is just the foundation being poured. The coaches and players understand this, of course. They've been through it before in their various football lives.
We, however, are the ones who have to exercise patience. I've been able to stifle the need to know right now and instead am building the tremendous sense of excitement and anticipation for when the pads go on and the practices are live and contact is on and we can watch and learn and discover step by step what this team is all about. I've seen just enough behind the curtain to know how exciting and promising the football team is, and I've talked to enough players to have a sense of the feeling they are enjoying.
"Everything is just up-tempo, demanding and intense, and it's fun," said defensive end Brandon Graham, who may be a defensive end or a linebacker or both as the Eagles go with a hybrid defense. "We've had a lot of change and I think the change is good for our defense. I can't wait to see how we get after it."
Isn't that how we all feel? We're about to hit June, a traditionally slow time in the NFL as team ramp up their preparations for training camp and everything that follows. Around the NovaCare Complex, every day is another opportunity to learn more about what the team will be, and how it will grow together. That is very exciting for those who enjoy the journey, who live the journey and who appreciate the growth of a football family.
If you know how this season will unfold, hey, you've got more vision than anyone I've ever met. I see it day to day, understanding that not until the Eagles kick off at FedEx Field against the Washington Redskins will we honestly, truly begin to know the direction this team will take.
That's what makes it so exciting. The franchise backed up after the 4-12 clunker of 2012, rebuilt so many parts, and is starting anew. The Chip Kelly chapter is only in its first couple of pages, and all of the fun and wonder experienced so far is just the beginning of what is going to be a fascinating team to live for.