It was a case of déjà vu for two-time Pro Bowl guard Shawn Andrews on Monday.
Nearly six weeks after undergoing back surgery to correct a herniated disc, Andrews was reunited with his teammates in the locker room at the NovaCare Complex.
A similar scenario occurred in mid-August.
After missing most of training camp due to his battle with clinical depression, Andrews practiced for the first time with the team on August 16. Andrews wanted nothing more than to be with his teammates then. He felt the same way when he saw them on Monday.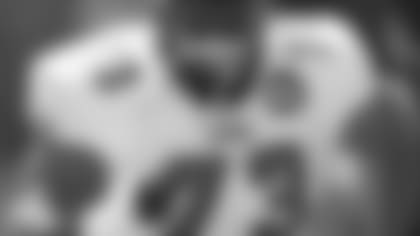 G Shawn Andrews
"It's a breath of fresh air," Andrews said. "It kinds of reminds me of preseason when my teammates were struggling the way they are and guys catching a lot of flak and me not being here to go through it and also going through my set of problems as well. It's all tough and it's good to be back home in my own bed and to be around the guys again, it's pretty cool."
There is a stark difference this time around. Andrews was able to jump back into the fray and practice immediately when he returned to the team back in August. At this point, it is unknown when Andrews will be able to play.
"Well, you can hope all you want and I do hope," Andrews said. "I don't know what the possibilities are. I'm working with (head athletic trainer) Rick (Burkholder) and the guys now, so now it's a matter of getting to that point where I can push and pull and take some people out."
Andrews suffered the injury back on Sept. 15 in the first half of the Cowboys game when he was double-teamed while blocking for a point after attempt. An MRI that was done the following day showed that the herniated disc was the same one that occurred back in high school. On two separate occasions, Andrews underwent an injection that was designed to calm his back but the problems persisted. It was finally determined that Andrews would have to undergo surgery, and the microdisectomy procedure was done by Dr. Robert Watkins in Marina Del Ray, CA. Andrews said the operation took two-and-a-half hours, about an hour longer than expected.
At a news conference on Oct. 22, Burkholder said that Andrews would have to remain in California for a minimum of five days. The long plane flight made it more difficult for someone who had just underwent back surgery to travel. Burkholder also said that Andrews' rehab would begin immediately and that he could be back on the field in six weeks. The Eagles kept a roster spot open, hopeful Andrews would return in that time frame. However, head coach Andy Reid made the acknowledgement on Nov. 12 that there was some bleeding that had to be calmed down before Andrews could return to Philadelphia. Andrews arrived last Wednesday and met with Reid and Burkholder on Friday. When asked the reason for the delay, Andrews said that he was simply following the doctor's orders.
"That's what Dr. Watkins recommended," Andrews said. "There were some things he saw in the X-rays and the MRIs and kind of the way I told him I felt so he used to gauge and he used his best interest and decided to keep me. Each time I had made arrangements to come back, he's like, 'We're going to need you to stay.'"
On Monday, Andrews sported a black-hooded sweatshirt, his trademark bro-hawk and sunglasses. At this point, Andrews said he is doing core-strengthening exercises as part of his rehab. When will Andrews be able to practice? That is still unknown.
"I'm focused on today," Andrews said. "I would like to get back out there, but right now I'm just going by the protocol that Dr. Watkins and between Coach Reid and Rick Burkholder and what they set up for me. If I can get back out there, that would be a plus, but if not then next year."
During his time in California, Andrews kept in close contact with his support staff as part of his ongoing battle with depression. He added that he spent a lot of time in his hotel "just kicking back and eating salads." In terms of what he was able to physically do, Andrews was pretty much limited to walking.
"I followed the protocol the doc said, no BLTs - bending, lifting or twisting," Andrews said. "I followed that to the best of my ability. He told me to just walk as much as I needed to. I walked as much as it was comfortable and that's what I did."
Thankful to be back home again, Andrews hopes that just like the last time he rejoined the team – he'll be able to get back on the field and do what he does best.