Alumni Alley runs every Tuesday on PhiladelphiaEagles.com and features a former Eagle who writes about his time in Philadelphia and his perspective after his NFL career ended. This week: Tra Thomas, a first-round draft pick in 1998 who played in three Pro Bowls during his 11-year career in Philadelphia. Thomas retired from the NFL in 2010 and then worked in broadcasting, opened a training business and is now an offensive coaching assistant on Chip Kelly's staff.
Had someone suggested to me in 1998, when I was just out of college and new to the NFL, that I would be sitting here in 2013 as a coach in the league, I probably would have looked at him like he was crazy. The idea of coaching, though, hit me early in my career, and I have Juan Castillo to thank for it. Juan taught me so much and his style hit home with me so naturally, that as my career went along I felt the itch to someday turn around and give that knowledge to other players.
Juan worked us hard when he was the offensive line coach here. I respected the way he went about his business. We were on the field early and we stayed late working on technique. He was always demanding, but positive in his approach. When I was done football, I wanted to give back, so I opened 7 Deuce Sports in Medford, N.J. to work with athletes and help some of them make it to the NFL. I was able to help a couple of players get looks in the NFL, and then I reached out to Coach Kelly about an internship. It's been a great experience and I'm here to learn every day, help this team win and enjoy the experience.
I needed a way, after I was finished playing, to stay in the game. I tried broadcasting and it was fun, but I missed the competition. I didn't want to just sit in front of a camera and talk about it. I wanted to be in the trenches working with the players and the coaches.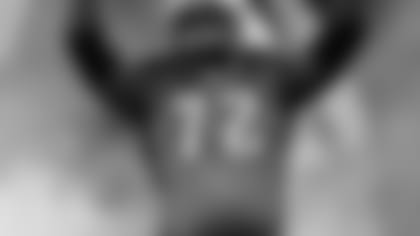 So now I'm a coach. It's a completely different life than when I was a player. Coaches work long hours and they pay strict attention to details. You don't appreciate as a player the amount of work a coach puts in each week with the purpose of helping players develop their games and their careers. I understood, because I saw that what Juan was teaching was benefitting all of us. We saw the results. Year after year our offensive line performed well and the offense scored a lot of points and we won a lot of games and went deep into the playoffs.
Playing in Philadelphia was an awesome experience. The fans were great to me and our locker room was home. We went 3-13 in my rookie season and then Andy Reid came to town and we turned it all around. Our entire culture changed. We had great chemistry within the team and we had a close-knit group that put together wins year after year. I knew that I was only as good as the guard next to me, so I thank players like John Welbourn, Doug Brzezinski, Jermane Mayberry, Artis Hicks and then Todd Herremans for my success. I always told them that I was only as good as the player next to me, and they were all great.
Jamaal Jackson, Hank Fraley, Bubba Miller and Steve Everitt were the centers during my time here, and they helped me immeasurably.
So now I'm here as a coach working for Jeff Stoutland along the offensive line. He's a great coach and I learn so much from him every day. We're able to work with some really talented players like Lane Johnson and Jason Peters, and both of those guys work hard and learn everything so fast. They are dedicated to the game and they don't repeat mistakes. Lane is a rookie and he's impressive. He picks things up fast. I don't let anything slide with him and he understands. Say something to Lane and he works on that detail in his game.
Jason is a different animal, one of the best tackles in the game. Period. There is nothing Jason is unable to do.
When I played, I was focused on my game and the man in front of me. I concentrated on my guy and the steps I was going to take to keep the defender away from the football. As a coach, I have to learn about schemes and about how everything fits into place and the concept of the plays, as well as what the defense is trying to do.
I'm here to learn and see where it takes me. I know that as a coach you put everything you have into every day and you see the results on game day. I've learned so much about the game of football as a coach that I never knew as a player – from the schemes to planning out a practice to understanding all of the little things that I never considered as a player. I am not going to put a stamp on what I want I want to be. I just want to enjoy it, appreciate it and grow among some of the best coaches in the NFL.