Alumni Alley runs every Tuesday on PhiladelphiaEagles.com and features a former Eagle who writes about his time in Philadelphia and his perspective after his NFL career ended. This week: Ike Reese, who played with the Eagles from 1998-2004 and earned a Pro Bowl spot during the 2004 season. He is currently a host on SportsRadio 94WIP in Philadelphia, working with Mike Barkann on the midday show from 10 AM to 1 PM. Follow Ike on Twitter @Ike58Reese*
Playing in Philadelphia was an absolutely fantastic experience. I was able to understand both extremes of Philadelphia sports fans: We were 3-13 in my rookie season of 1998 and then we went to the Super Bowl in 2004, my last year here. Being an Eagle had a profound impact on me as a sports fan in general. I have always been a sports fan, but I don't think I understood the passion within me until I became intertwined with Eagles fans.
I saw how frustrated Eagles fans could become, how embarrassed they were in that 1998 season and then I saw them turn and experience the high of having their team, something that matters so much to them, in the Super Bowl. It was infectious, and to live and die with these fans for 12 months of a year was a great thing. Even in the offseason, the Eagles were at the top of every fan's mind every day. It had a huge impact on me.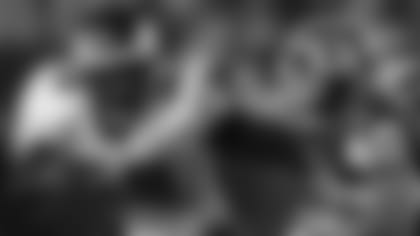 Sometimes when you're a player you don't understand how much your actions and your words mean to fans. I listened to sports radio when I played – I was a fan even though I was on the team! So to me, coming back to Philadelphia after I left the Eagles and joined Atlanta was very natural. I belong in Philadelphia, which is a great city in which to be a sports fan and a great area to raise a family.
I was a blue-collar player in a blue-collar town, so the fit was like a hand in a glove. And if you remember correctly, the fans got all over me in my early years. I was known for committing a penalty or two playing special teams and they always seemed to come at the wrong times, and I heard it from the fans. I heard the booing. I heard the fans calling the radio and criticizing me. As I got better as a player, this fan base grew to love me. The fans stuck with me as I matured as a player. We grew together.
I have experience as a player transitioning from one coaching staff to another and, as the Eagles start the Chip Kelly Era, it's exciting to see how the entire organization moves forward together. To me, the biggest steps that need to be taken involve acquiring players, and having players in that locker room, who want to be part of wearing the Midnight Green uniform. For our group, it mattered what the players before us did to build this franchise. For the players now, they have to live up to a certain standard and care and appreciate what it means to be a Philadelphia Eagle.
Chip is the right coach to be here and the atmosphere is in place. The NFL game is evolving and the Eagles have a head coach who is ahead of the curve with the way he thinks and the way he communicates to the players. We are a city that loves smash-mouth football, particularly on the defensive side of the ball, and we have to realize that the league is changing. That brand of football may not be suitable any longer, because it is the offense that drives the league. With Chip here, the Eagles couldn't have a better coach in place to lead the team through a non-traditional time in the NFL.
The Eagles are headed in the right direction. I'm convinced of that now, and I was a little bit reluctant accepting Chip when the hire was made. But I've seen enough of him to feel like he's a great mind, he understands what he's working with and he knows how to maximize his talent.
It all begins on Monday night and it is a tough assignment. Washington won the NFC East last season and it has a young, rising star at quarterback, a powerful running game and an outstanding defense. Robert Griffin III, though, hasn't played a preseason game. He hasn't taken a snap, so the Eagles have to find a way to take advantage of that. Somehow, they can't let him get into his rhythm. It is hard to simulate live action, so I don't know how the Redskins can get in sync so quickly.
The offense has to lead the Eagles and put this team in position to win the game in the fourth quarter. Michael Vick is going to have to operate efficiently and get the ball into the hands of his playmakers.
Can the Eagles win this game? Of course they can. It isn't going to be easy, though. The Eagles go into the opener looking up at the Redskins in the NFC East, so Chip has to make sure his team gets through the initial surge of emotion and wins the fourth quarter.
In any event, a new era is here. I'm looking for players who want to be here, who want to represent Philadelphia and restore the pride and dignity of this football franchise and get the Eagles back on the winning track for years to come.