Alumni Alley runs each Monday throughout the offseason on PhiladelphiaEagles.com and features a former Eagle who writes about his time in Philadelphia and his perspective after his NFL career ended. This week: former wide receiver Harold Carmichael, the franchise leader in receptions, receiving yards and touchdowns and who is a member of the team's Hall of Fame. Carmichael is now the director of player programs for the Eagles, and he talks here about his message to the players ...
The NFL Scouting Combine is going on in Indianapolis right now for more than 300 prospects, young men who are working hard to have their dreams come true. My hope, in the seat that I'm in, is that these men hope to not only make the NFL, but to have a career in the NFL and then use the experience here as a springboard into something else that will carry them beyond their days on the playing field.
There are some guys who are going to come into the league and make a lot of money and become millionaires. There are some who are going to come into the NFL and not make a lot of money, but who are going to use the tools we have here to go into a profession after the game is over. As we all know, the average length of time for a player is in this league is around 3.2 years. The question is: What are you going to do with your life after your playing days are over?
The day a player comes into the NFL and prepares to play in this league is the same day a player needs to prepare himself to leave. You never know what injury or what issue is going to remove a player from the game, so hopefully every player takes advantage of the tools that are here to help him along the way.
The players at the Combine, the players who are going to be drafted in May or signed after the draft, they have no idea right now of what they're getting themselves into. They've seen the game on television and they've had friends tell them about the league, but until you are here, it's impossible to know. From the minute you become a member of this league, you have to understand that you are being watched. People are watching everything you do on and off the football field.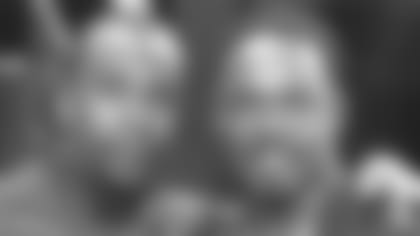 One of the first messages I give to players is to pay attention to what you do when you leave this NovaCare Complex building. There are people out there watching you – what you do, what you say, what you look like. I've seen players leave this building as Eagles and then make a mistake and then never, ever again even wear a practice jersey.
This is a different, difficult environment for a young man. The NFL is for grown men, so much of the success a player has depends on how quickly he matures and understands he has to grow up. Some players want to hide behind their age when it's convenient, when they make a mistake. That doesn't work in this league. You are expected to "get it," and do so quickly.
I meet players during the free agency period when they are signed and then tour the facility and meet certain people. Those players have already been in the league and they understand how it works in the NFL. I meet draft prospects who visit the NovaCare Complex before the draft. And then I meet the players we draft and players we sign after the draft, and it's important to me to speak to the players as quickly as possible. I am going to tell them the truth. They've heard all of the things they want to hear before. I want to tell them like it is, what this league is all about.
There is not too much that I haven't seen in this game as a player and in my current role. It is not easy to play in the NFL and to prepare for life after the playing career is over. Nobody is perfect and mistakes are going to be made, but players can't believe when everyone tells them how great they are and how much money they have. Players are put on a pedestal. I understand that. This is a great time in a player's life. But if they aren't listening and they aren't taking in what I'm telling them, it's going to catch up to them at some point. We've all seen it happen.
I've enjoyed all of our draft classes and there have been a lot of fine young men who have played here. But our last two classes have been special. At the Rookie Symposium each year, the league asks questions and has a Rookie Challenge. Players answer questions as a group and our rookie classes came in third in 2013 and in second in 2012 among the 32 NFL teams. That's something that makes me proud. Our players listen. Our players don't fall asleep. I watch them like a hawk to make sure they pay attention.
The most important message for players to absorb is to RESPECT everything about this game and this time in their lives. Respect the team. Respect your teammates. Respect the game. Respect your parents. Respect your coaches. Respect yourself. If you don't do these things, you are going down the wrong path.
It all starts with the player. We, the team, are here to help. Take advantage of the tools we're offering to give you the best chance to succeed on and off the field, during and after your NFL career.