How difficult is it to kick in Giants Stadium?
David Akers will say it's tough to kick in any stadium in the Northeast part of the country in the winter time. But for Akers, who has been successful on 81 percent of his career field goal attempts, to say that hitting 2-of-4 field goals - as he did in the Eagles' 20-14 win in Week 14 is a "pretty good game" should tell you everything you need to know.
Akers has hit exactly 50 percent of his field goal attempts over his career at Giants Stadium including the playoffs. He's 11-of-22, but despite wind gusts that were over 20 miles per hour he nailed a 51-yarder back on Dec. 7. The key for Akers could be which end zone he is kicking into. Akers said on Thursday that when the Eagles are going from left-to-right from his perspective on the sideline, that there is a wind that blows diagonaly into your face.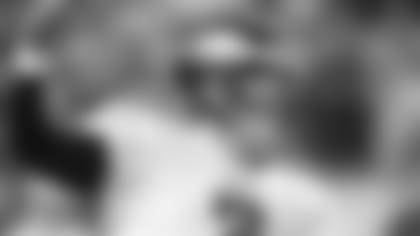 K David Akers
The problem at Giants Stadium, however, is that in the wind conditions pregame can alter by the second quarter.
"Each kick presents its own challenge," special teams coordinator Rory Segrest said. "In terms of the weather, again, I think, early in the season, David just overcompensated just a little bit for that. Long explanation short, I think that's what it was; just thinking the wind was blowing harder than it was and trying to aim too far, one direction or the other. Again, I think he's a veteran guy and he understands how to go out and make those adjustments and he's done a good job of that the rest of the season here."
Since the last Giants game, Akers has been on a roll. He has connected on 11 of his last 12 field goal attempts, including a perfect 4-for-4 in last week's wild card win over the Vikings. Of course, Minnesota plays in a dome. The current forecast for Sunday in East Rutherford, N.J. calls for temperatures right around the freezing mark with winds blowing in the teens.
Akers laughs when he checks the weather reports during the week. He'll only look at them once or twice because of how much things can change on such short notice.
But it's not just Akers who has to be concerned.
Punter Sav Rocca was pivotal in the wild card win over Minnesota, his playoff debut. He averaged 44.3 yards per punt and a 44.0 net on four attempts. All four of his punts pinned the Vikings inside their 20-yard line. But back in Week 14 at Giants Stadium, Rocca had a better net average (38.3 yards per punt) than gross average 36.3).
Rocca said that he has to hold the ball a little longer, which is one of the minor adjustments he must make when he kicks in a windy, outdoor stadium.
"Once it comes off your foot, the wind does determine where it can go," Rocca said.
Special teams played a crucial role in last Sunday's win. This Sunday, the weather will play an important role in the success of the special teams and potentially determine whether the Eagles can extend their playoff run.