David Akers has had some successes to remember and some near-misses to forget during his career in Philadelphia. But when talking about his most memorable kick, the placekicker reflects back to a game against Sunday's opponent, the Pittsburgh Steelers.
On Sunday, Nov. 12, 2000, the Eagles overcame a 10-point, fourth-quarter deficit to win in overtime, 26-23, at Pittsburgh's Three Rivers Stadium. Akers provided both the game-tying and game-winning points with a pair of 42-yard field goals. The win came on the heels of a 16-13 overtime win against Dallas.
For Akers, the wins marked a significant turning point for the team.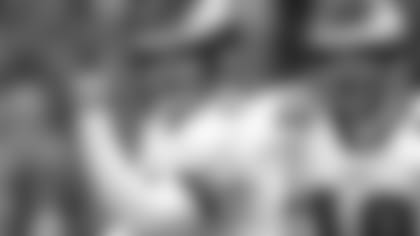 K David Akers
"I think it kind of sparked the beginning of Andy's era," Akers said. "We won back-to-back overtime games, we made it to the playoffs that year and went from a 5-11 team to an 11-5 team. I think it really showed the heart of the team, that we weren't going to give up."
In the Steelers game Philadelphia pulled within 23-20 with 2:29 remaining in the game. Tim Hauck then recovered an on-sides kick to set up the offense. Donovan McNabb and Co. drove to the Steelers' 24-yard line as the game clock ticked helplessly down from 0:15. With no timeouts remaining, Akers and the field goal unit rushed onto the field to tie the game as time expired to force overtime.
"We looked like a well-oiled machine with linemen running off and linemen running on and we got out and made the kick," Akers recalled.
The Eagles won the coin toss in overtime and elected to receive. The offense drove deep into Steelers' territory and Akers came on with 10:51 remaining to complete the remarkable come-from-behind win.
However, the last game played between the Eagles and Steelers was a forgettable one for Philadelphia. The run defense was gashed by Jerome Bettis, who rushed 33 times for 149 yards.
Pittsburgh's coverage teams have been suspect in recent years, however the group has done a nice job through the first two weeks of the 2008 season, limiting two of the game's best return men.
In the season opener, Houston's Andre Davis averaged 18.7 yards on 6 kick returns. Last week, Cleveland's Joshua Cribbs averaged eight yards on five punt returns and 22 yards on one kick return.
Of course, Philadelphia's rookie tandem of Quintin Demps and DeSean Jackson will test those units Sunday. Demps had a 47-yard kickoff return at Dallas Monday night, while Jackson broke off a 60-yard punt return in the season opener against St. Louis.