On September 22, the eve of the win over the Indianapolis Colts, the O'Shea family was touring the NovaCare Complex.
Eagles Autism Challenge executive director Ryan Hammond was sent a photo of 8-year-old Michael O'Shea holding up a sign at school that read that he wants to be a football player when he grows up. Moved by the image, Hammond invited Michael, who is non-verbal and on the autism spectrum, and his family to the team's training facility.
The O'Sheas saw the Lombardi Trophy and Super Bowl ring that rests in the case in the NovaCare Complex lobby. They walked the hallways adorned with pictures of the franchise's Pro Bowl players. The family marveled at the entryway to the practice field which has life-size images and graphics honoring the best moments of the last two decades.
Michael's father, Jared, figured they might see someone from the coaching staff in the building. But they were not prepared for what happened next.
As Michael played on the practice fields outside with two of his sisters, Molly and Madelyn, the entire team came out and headed for the stone bleachers that come out from behind the building. It was team picture day. And Michael was going to be front and center in the photo.
Michael was going to be a football player.
Head coach Doug Pederson chatted with the family before Hammond revealed the surprise. Michael's mother, Michelle, grabbed her son and began to tear up upon hearing the news. Jared, holding Madelyn, was in disbelief.
Meanwhile, the team assembled for the photo. Hammond introduced the players, coaches, and front office staff to Michael, who was in a kelly green Carson Wentz jersey. Everyone cheered for him. Michael sat between Coach Pederson and team president Don Smolenski in the second row.
"That's something that we'll have forever. For him, he can't really tell us what this means to him, but we know and we know what it will mean in the future for him," Michelle says. "He loves football. He loves the Eagles. We're huge fans, so we're just so thankful to be a part of it."
About 100 miles up the road in New York City, Bryce Moses was aware of the magical moment that was unfolding in South Philadelphia.
Moses donated money to the Eagles Autism Challenge in his nephew Mason's name as a bah mitzvah gift and won the opportunity to sit in the team photo. When the date was announced, however, Mason was unable to attend.
Unsure of what to do, Moses spoke with Mason and his sister, Skyler, and the children came up with the idea of donating it to another fan. Moses reached out to Hammond, who had just seen Michael's photo that morning.
"I figured this would be a great life lesson for him to contribute in his name to a great cause through the Eagles organization," says Moses, a Villanova native. "It couldn't have been a better match for our extended Eagles family."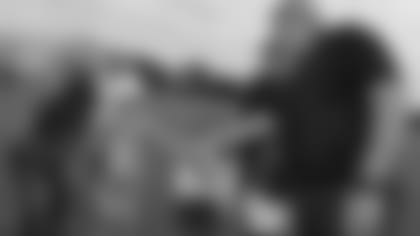 An attorney in New York City, Moses spent many years fighting on behalf of families with special education needs. He was very sensitive to the challenges children with autism face. He understood the difficult hurdles that the parents and guardians have to overcome. That's why he wanted to donate to the Eagles Autism Challenge.
"The only thing I did wrong was watch that video before I walked into court," Moses said after seeing the O'Shea family's reaction. "It's hard not to get emotional watching that, and the family just looks like a great family. I'm just so happy to see that."
Michael is a second-grade student at Wallingford Elementary School. He said his first word, "dada," just before he was 2 years old. He initially spoke a number of words, but regressed and wasn't diagnosed with autism until he was 3. In addition to saying mommy, daddy, and his three sisters' names, Michael will also cheer, "Go Eagles!"
"He's a hard worker. It's funny that it's the Autism Challenge because it is a challenge, and every day is a challenge with him, but he works harder than anybody I know," Jared says. "He fights hard. He works hard, and he's overcoming this a lot and has made tons of strides. He gets better every day, so he never stops. He keeps grinding and we're proud of him."
"People say, 'Oh, they'll never be cured, they'll never do this.' He will do this," Michelle says. "He's changing every day. He's a different child. From last year in September, he's a different child. He's growing, he's flourishing, at one point he was completely non-verbal. He's saying words now. He's happy. He used to be so temperamental and angry and transitions were a challenge, but not anymore."
In addition to going to school full time, Michael does 12 hours of therapy each week. He plays in a basketball league on Saturdays and tennis on Sundays. Jared is looking into getting Michael in a football league.
"Just to continue raising awareness, educating others, giving others the opportunity to learn more," Michelle says. "It's not a disease, you're not going to catch it. That's what we went into his class to teach his class about. I said if you touch him, you're not going to get autism. Every time you talk to him, you can say hi to him. He might not always say hi back to you, but it doesn't matter. He's still a second-grader. He's still your little boy that wants to have friends. He's always listening."
And he certainly heard those cheers from the players he gets excited to see every gameday.