A more accurate series of questions should be: Why not sign Donnie Jones if you think he is an upgrade over Mat McBriar? Why wouldn't you be true to your word and upgrade every position possible if you think he is a better punter than Mat McBriar, who was released when Jones was signed on Monday?
The Eagles added their 10th player since free agency opened when they reached out and brought in Jones, the veteran who has been so outstanding in his career. Jones, an unrestricted free agent who thought he was heading back to Houston after his 2012 performance, was made expendable when Houston signed Shane Lechler last week and, certainly this Houston-to-Philadelphia pipeline has some real traction here since the Eagles last year traded for linebacker DeMeco Ryans and then this off-season have added free agents James Casey and Connor Barwin before reeling in Jones.
Jones and the Eagles actually made contact last week before the Texans signed Lechler, so it was something in the works for several days before Monday's announcement.
What was so wrong with McBriar that he was replaced? He was never totally healthy last year after the Eagles signed him to replace Chas Henry, and McBriar's numbers -- he averaged 46.5 yards per punt -- didn't replace the idea that there was some inconsistency and very few, if any, field position-changing boots.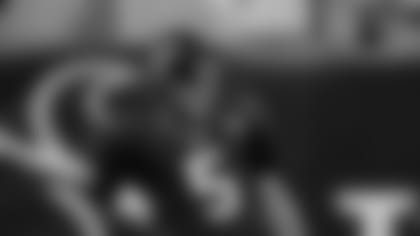 So, in this ever-changing game of punters, McBriar is out and Jones is in. McBriar should find a spot somewhere in the league as his health improves, and the Eagles wish him nothing but the best. In Jones, though, they have a left-footed kicker who has great directional skills and a huge leg. He averaged 47.2 yards per punt last year and, not that long ago, was one of the most accomplished punters in the league. He and Lechler, it is fair to say, were at the top of a small group of the best punters in the NFL.
Jones has twice been named a second-team All-Pro by The Associated Press and in 2008 he averaged 50 yards per punt. That's heady stuff. The guy has been outstanding for most of his nine NFL seasons.
It's also fair to say that Jones has kicked in some pretty nice punting locales. He was a seventh-round draft pick in Seattle, played a couple of seasons in Miami, then enjoyed five years in the St. Louis dome and spent last season in Houston. Those home zip codes always help the gross punting average.
But the Eagles did their homework here, and have kept their eye on Jones for years. He is a professional, a veteran, a stable influence and he's going to be consistent. How he adjusts to the climate of the East Coast, which, let's be honest, we really don't know how to anticipate, is going to be the key to his success.
The move represents the Eagles' plan to challenge every position, and that's fine from this perspective. Why sit confidently with a roster that needs to be improved when there are still players in the market who can come in and upgrade the level of competition on this roster.
How much of a difference Jones makes remains to be seen. He's held in the league for eight seasons and has no problem there. In fact, he's said to be an outstanding holder. There isn't much he hasn't accomplished. His cold- and windy-weather skills are going to be tested for a game or two or three at Lincoln Financial Field and in Green Bay maybe and perhaps when the Eagles play at New York and Washington.
Free agency, then, is not over for the Eagles. Don't expect a run on signings here. Don't have those kinds of expectations. And the big-ticket deals are likely not going to happen.
But a one-year deal for a player looking for the right situation to earn playing time and excel? Why not Philadelphia, a team that wants to push every inch of the roster before, during and after the NFL draft next month.