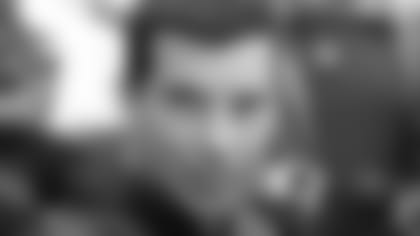 When Ryan Day is in the meeting room with the Eagles' quarterbacks, he can offer a perspective that none of the previous quarterbacks coaches in the Chip Kelly era had. Day, himself, was once Kelly's quarterback.
"You can watch film. You can do whatever you want. You can draw on the board, but until actually you go out there and do it, you don't understand how fast it's going and all of the decisions that have to be made," Day said.
In fact, the 36-year-old assistant coach was the first quarterback to run Kelly's offense. When Kelly was promoted to offensive coordinator at New Hampshire in 1999, Day entered his first of three seasons as the starting quarterback. At the end of his college career, Day owned four school passing records including completion percentage (59.9) and touchdown passes (53).
Day described Kelly's office at New Hampshire as a laboratory where weekly schematic changes were the norm.
"We would go from run-and-shoot to the Winged-T to the veer. One week, we threw it six times. The next, 65 times," Day said. "It was a lot of fun to be around. We had some great games and great shootouts."
Day passed on the field, but caught the coaching bug being around Kelly. Day joked that he was typically a 3.0 student, but during football season that number was cut in half because he wanted to be part of the gameplanning process.
After Day's playing career ended, the Manchester, New Hampshire native - in fact, he and Kelly graduated from the same high school - remained on campus to coach the tight ends. In 2003, he left his home state for the first of three stints at Boston College. He was a graduate assistant on offense for a year with the Eagles before spending a year at the University of Florida. He was named a wide receivers coach at Temple for the 2006 season before returning to Boston College to coach its receivers for five years.
In 2012, Day came back to Philadelphia as Temple's offensive coordinator/wide receivers coach before going back to Boston to be the Eagles' offensive coordinator/quarterbacks coach for the last two years.
Back in 2013, after Kelly was first hired by the Philadelphia Eagles, there were some initial talks with Day about joining the staff. At the time, Day and his wife, Christina, just had their third child and the timing wasn't right.
Meanwhile, the quarterbacks coach spot in Philly has been a launch pad for the past two seasons. After helping Nick Foles earn Pro Bowl honors in 2013, Bill Lazor was named the offensive coordinator of the Miami Dolphins. Bill Musgrave parlayed his one-year stint with the Eagles into an offensive coordinator gig with the Oakland Raiders.
Day said that the potential career development did not play a factor in taking the Eagles' quarterbacks coaching job. He has always kept an eye on Kelly from afar. Day's mother told her son that Eagles gear can be purchased in the mall in Manchester, New Hampshire. Day simply wanted the chance to reunite with Kelly and the offense.
"It's a fun offense to be in because you're going up-tempo. You're on the attack. You feel like maybe the defense got you on one play, just go faster. Run another play. That's fun when you're on the attack," Day said. "You're like a point guard. You're spreading the ball around. The ball's in your hand. It's an aggressive style. I think the idea is every time you're on the field we're going to score points. As a quarterback, that's a good mindset to be in."
Day's challenge now is getting the most out of the Eagles' quarterbacks starting with Sam Bradford, who was acquired in a trade this offseason.
"You're excited because this is a guy you know is really, really talented. You just want to get around him, get to know him a little bit, get to know what he's all about, what makes him tick and try to get him better," Day said. "What a great opportunity, him coming here into this offense, coming off a couple of injuries to come in and have a breakout year. Just being a part of it and trying to be able to help him every day. It's an exciting opportunity."
Even though Day has not been around Kelly on a daily basis in over a decade, the head coach is still "the same guy" as he was in New Hampshire.
"He gives you a job and he lets you go do your job. He knows what's important. When he says something to you, you better listen because there's thought behind it and it's calculated," Day said. "A lot of head coaches just talk and micromanage, but Coach, everything he says has substance behind it and everything he does has been thought about for a while. He knows where to put his thumb where it's supposed to be. I think that's one of his gifts."
Day helped Kelly succeed as a player years ago at the collegiate level. Now, he can aid in bringing Kelly - and Eagles fans - victories in the NFL.