With the Eagles trailing the Dallas Cowboys 10-0 late in the third quarter of Sunday's game, Nick Foles scrambled to his left, trying to make something happen on a third-and-goal play from the Dallas 9-yard line. Foles couldn't find and open receiver, and was taken down hard for a sack by defensive ends Jarius Wynn and George Selvie. The final seconds of the quarter ran off the clock. As the teams began their walk to the other end of the field, Foles stayed on the ground. He would get up, but would make his way directly to the locker room for further evaluation after suffering what the team announced as a head injury.
Just like that, with one quarter remaining in a divisional game with first place in the NFC East on the line, rookie Matt Barkley was told that he would be entering his first-career NFL game.
"I couldn't really see (Foles get injured) because he was really close to our sideline," said Barkley. "I didn't really get a good look. … The trainer just gave me the nod and said that he wasn't cleared and wasn't good to go, so it was as simple as that."
The Eagles would kick a field goal on the first play of the fourth quarter, cutting the Dallas lead to seven points, at 10-3. But quarterback Tony Romo would lead the Cowboys down the field and connect with Terrance Williams on a 9-yard touchdown strike to extend the lead to 17-3. Barkley then made his first NFL appearance, with the Eagles trailing by two touchdowns and 9:25 remaining in the game. Needless to say, it's not how the Eagles' fourth-round pick expected to see in his first taste of NFL action.
"I just thought that it was a unique opportunity for a first NFL snap," said Barkley. "Given the circumstances of the game, I didn't want to think too out of control or try to think too big to where it got out of reach. On that first drive, I tried to get competitions and go from there."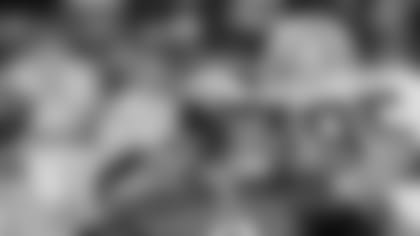 Barkley was able to do just that on his first career NFL pass, finding Jason Avant for 6 yards. On the very next play, Barkley threw a pass over the middle that was intercepted by Bruce Carter, but an offsides penalty on the Cowboys would give Barkley and company new life.  Later in the drive, on a third-down play from the Cowboys' 37-yard line, Barkley's pass was intercepted by Sean Lee, and there was no flag this time. Afterwards, Barkley admitted that it was tough to get into a rhythm with his receivers after not practicing much with them to this point of the season.
"I would say the only difficult thing about that is the timing with those guys," said Barkley. "You get one of those 'routes versus air' throws to the receivers in warm-up drills, but to go live speed, 100 percent, seeing their breaks, seeing them drop their hips and their little tendencies that those receivers have - I don't totally know all of those yet.
"When I say there's a lot to learn, I've got a lot of growth in front of me, which I'm excited for. I felt comfortable with the game plan and knowing the plays. That wasn't the issue."
Barkley completed 11 of his 20 pass attempts for 129 yards. However, each of Barkley's three drives with an interception, ultimately sealing a Dallas victory. In his post-game press conference, Chip Kelly talked about the uphill challenge that his rookie signal-caller was presented with.
"Matt got put in a tough situation," said the Eagles' head coach. "We're throwing every down. He can get the ball out of his hands quickly. He did some nice things at times, but you have to understand - he has to understand it's his first time playing ... (It was a) difficult situation for Matt to be in to go into a game for his first time and be in that situation."
Barkley also understood the difficulty of knowing that he would have to throw the ball on almost every single play, after watching the first 45 minutes of game time from the bench.
"I think your mindset has to be different when you come into the fourth quarter like that and your team is down, as opposed to you starting a game and it's zero-zero and you're getting into a rhythm," said the USC product. "I maybe was a little bit too aggressive on some of those throws, trying to go down the field and trying to help the team win, but I learned a lot from today and I'll learn even more watching the tape and we'll grow from here."
Though it may not have been the start to his career that he had hoped for, Barkley has already picked up some helpful advice from a fellow NFL quarterback.
"I know what I'm capable of," Barkley said. "I believe that I can do great things in this league. This is just the start. It's funny, talking after the game with Tony Romo. He gets a lot of flack and obviously he's a rival, but I respect him and the quarterback he is. He was just smiling and saying that in his first start he threw three picks and that to learn to pass, you have to throw it in order to score touchdowns. I'll take that for what it's worth.
"I'll take this game in stride and learn from it and grow, but this game is not going to set a tempo for the rest of my career. I think I go 'one play and done,' and that's the mentality that I've had for quite a while. You just keep trusting in your arm and trusting in yourself in the system and move forward from there."