Remember Donovan McNabb's 14-second scramble against Dallas in 2004? Defensive tackle Leonardo Carson came up the middle which forced McNabb to his right. The only problem was that defensive end Greg Ellis was waiting for him, so McNabb ran all the way across the field before firing the ball to Freddie Mitchell for a 60-yard gain.
Don't expect to see that on Monday night when the Eagles travel to Dallas to play their final regular-season matchup at Texas Stadium.
"I'm not 21, 22, 23 years old anymore," McNabb said. "There are no 14-second scrambles going on. Drop back, get the ball out of your hands and let those guys go to work."
In the past, McNabb would use his legs to buy time in the pocket and wait until a receiver was open. It's one of the reasons why McNabb owns the NFL's all-time lowest interception percentage - in 3,765 career attempts he's thrown only 79 interceptions, a 2.1 percent rate. But there were signs in the Eagles' season-opening win over the Rams that this is a different McNabb in 2008.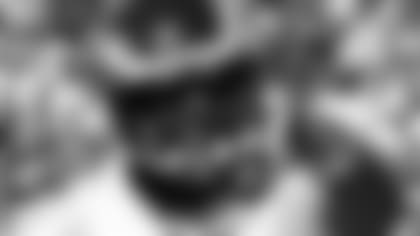 Look out, Donovan McNabb may just hit you with a pass
On the second play of the game, rookie wide receiver DeSean Jackson was blanketed along the right sideline by cornerback Tye Hill. McNabb dropped back, put the ball in the air and let Jackson make the play. Jackson's first NFL reception went for 47 yards.
"That just shows the confidence that he has in the receivers here," Jackson said. "Honestly, it's a great feeling for a receiver to have to know his quarterback is going to put it up and let you make a play. There are a lot of times as a receiver where you run the route and the DB is going to be there. To have that confidence from your quarterback to put it out there gives you the extra confidence and the swagger to go out there and make a play."
Last season, McNabb was sacked 44 times. Twelve of those sacks came in one game against the Giants. But some of those sacks over the course of the year came from McNabb simply holding the ball too long. And some of them were not necessary. There were receivers were open on certain plays. McNabb said that the knee injury that he incurred in 2006 is not the driving force behind his change in philosophy. His receivers are not going to get open on every play, but you have to give them the chance to make one.
"That's what you want as a receiver, just the opportunity to go out there and make a play because it's not always going be a time where, fortunately, like in my case I was just wide open," said wide receiver Hank Baskett, who had a 90-yard touchdown against the Rams. "When we go out there and make plays, we're not going to make all of the plays. Last game, we came out and won a majority of them last week. That's what helps us out and gives him confidence, too, in us."
McNabb said that he wants to reward his receivers for the hard work they put in during the week.
"You have to do that. You have to trust him. You show them that you have trust in them, which, obviously, leads to them trusting me. You have to reward guys as well," McNabb said. "You go through a week of practice with guys putting in extra time and catching balls in practice and doing an excellent job off the field, you reward them. When they have that opportunity, when they do get open, you want to get them the ball and give them an opportunity to make more plays and pick up more yards. That's pretty much what it's come from."
Just because McNabb is changing his approach on the field, it doesn't mean he lost the gifts that allowed him to scramble for 14 seconds nearly four years ago in the same place that the Eagles will visit on Monday. McNabb wasn't sacked in the win over the Rams. Part of it was a stellar performance by his offensive line, which manhandled the Rams defensive line. But some of it was McNabb using his skills in a different way.
"I think that as you get older, of course, you're going to mature a little bit more," running back Brian Westbrook said. "Some of those more athletic things you don't do as much, you try to use the skills that he has. He has the ability to get the ball out of his hands faster and quicker and find the open receivers a little bit better than maybe he did when he was younger in his career. I do see a little bit of difference in him, but now that he's completely healthy, I also see him using his legs and being able to use his legs to get out of different situations, too."