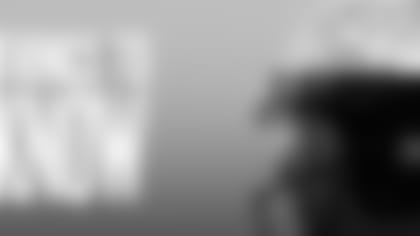 The Eagles return to work at the NovaCare Complex on Tuesday, but it remains to be seen how much they'll be able to do. After heavy rain overnight, the weather forecast calls for additional rain and thunderstorms throughout the day. Head coach Chip Kelly is scheduled to hold a press conference at 11:20 this morning and we will broadcast it live online and on our app. Until then, here are the 5 Things To Know for Tuesday, August 11 ...
1. What's The Impact Of The JaCorey Shepherd Injury?
The Eagles' worst fears for cornerback JaCorey Shepherd were confirmed on Monday morning when an MRI revealed that the rookie tore his ACL in his right knee. Shepherd incurred the injury during Sunday's Open Practice at Lincoln Financial Field.
Shepherd was very much in the mix to start as the Eagles' nickel corner this season. The team's depth will be tested, but there are candidates in place. Second-year defensive back Jaylen Watkins was already taking the first-team reps on Sunday before Shepherd's injury. Fellow rookie Randall Evans has taken reps inside along with veteran E.J. Biggers. Don't forget about Nolan Carroll, who could potentially start on the outside but slide inside in nickel. Don't forget that safeties Malcolm Jenkins and Walter Thurmond are experienced in the slot.
There are lots of options for the Eagles. In this week's Big Question, we looked at some of the key players we're watching Sunday in the preseason opener against the Colts (1 PM, NBC10).
2. High Praise For Sam Bradford
Sam Bradford is just five days away from playing in his first game since August 23 of last year. Fans are not the only ones who are excited to see what he will do in game action. His Training Camp performances have caught the attention of his teammates as well. Tackle Jason Peters told Bob Grotz of the Delaware County Times that Bradford reminds him of Aaron Rodgers.
"The quickness. The decisiveness. That's what I see," Peters said. "I played with him in the Pro Bowl. The quickness of him getting rid of the ball, that's what I see.
"We've just got to keep him clean and good things are going to happen this year."
Bradford appears at home in the Eagles' offense thus far. He gets the ball out quickly. He throws with anticipation and he puts the ball where the receiver can catch and run with it effortlessly.
"It's a receiver-friendly ball," rookie wide receiver Nelson Agholor said. "He puts balls in a position where guys can always pluck them. It's a ball that comes with a great spiral, not so much heat but it's very accurate and it has good speed behind it. And it looks good coming out of his hand. That's my definition of a receiver-friendly ball. The quarterback throws it, it's comfortable coming out of his hands and you can see it all the way through."
3. Peters Offers Support To Youth Football Team
"When we found out who we were getting it from, it was like, 'Wow,'" said Tynisha Warrington, Ivy Hill's treasurer and unofficial team mom. "We appreciate players and those who give back to us. For somebody to make it that big and to still think about people like us, that's amazing."
Peters continues to build his résumé for the Pro Football Hall of Fame. He entered Training Camp at 320 pounds, according to Joseph Santoliquito of CBS Philly, which he said is 25 pounds lighter than his usual reporting weight. He gave up ice cream and rode around town on a bike to shed the weight. Head coach Chip Kelly is expecting Peters to be the best left tackle in the game once again. He is setting a perfect example for the Ivy Hill Saints by never being satisfied with where he is at.
"Growing up, I had a cousin, Randy, who was older than me and I always looked up to him," Peters said. "And now, my mom (Teledeo) and dad (Ivory), my family, that's what keeps me going."
4. What's The Ideal Role For Ryan Mathews?
Ryan Mathews brings a lot to the Eagles' rushing attack. The question is how much will the coaching staff utilize him with DeMarco Murray and Darren Sproles to feed as well? Two years ago, Mathews had 311 total touches in the regular season between rushes and receptions as the Chargers' feature back.
In 2013, Bryce Brown had 75 carries as the primary backup. Sproles had 57 a year ago. It's not a fair comparison because Mathews is a workhorse back. Can Kelly's tenure at Oregon shed some light as to what we can expect? Between 2010 and 2011, LaMichael James and Kenjon Barner were the top two backs for Oregon. In 2010, the two combined for 386 carries and Barner received 92 of them (23.8 percent). The following year, they combined for about the same amount of carries (399), but Barner got 38.1 percent of the load (152 rushes).
Mathews is more than an insurance policy. He's going to play an integral role in this offense, the question is the size not the scope.
5. Host Your Fantasy Football Draft At Our House
Following the discussion of Mathews' role in the Eagles' offense, it only makes sense to transition to fantasy football. The preseason is underway. You're poring over preseason depth charts to find out who will play a role in each offense. If you're going to prepare for fantasy football like a champ, you might as well draft like a VIP.
The Eagles and Bud Light are teaming up to open Lincoln Financial Field so you can host your fantasy football draft. You'll pick your team from a suite at the stadium. The evening includes a food and beverage package, a special Eagles draft board, a visit from the Eagles Cheerleaders and free tickets to the Fantasy Football Insiders Event on Thursday, August 20. Click here for more details.
*App users, click on "View In Browser" for the full experience.