In the first meeting of the season against the Eagles, the Cowboys racked up 312 passing yards, tight end Jason Witten had seven catches for 110 yards and they converted 6-of-10 third down opportunities.
Dallas, though, will be hard pressed to match those numbers on Sunday at Lincoln Financial Field.
Defensive coordinator Jim Johnson has seen marked improvement throughout his defense this season and he expects it to end the regular season on a strong note.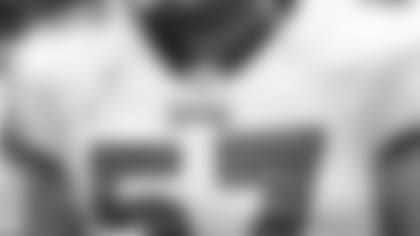 LB Chris Gocong
"It has come a long way," Johnson said. "I think we're a much better defense right now. Every Sunday is different. We have to play well this Sunday, but they have come a long way."
Following the Week 2 loss in Dallas, the Eagles' defense was ranked 22nd against the pass. Heading into Sunday's matchup, Philadelphia's pass defense has risen to the lofty status of No. 2 in the NFL.
It's not the only place Johnson has seen tighten up.
Earlier in the season, the linebackers and safeties were having a little trouble keeping up with opposing teams' tight ends in pass coverage. Improvement in that area was one of the biggest factors in the Eagles' turnaround against the pass.
"I think our coverage has been really good," Johnson said. "Especially you can see on third down, we have done a good job on third down of getting people off the field. I think our coverage has been good. That's the biggest thing I've probably noticed, and plus maybe doing a good job against the run."
Stopping the run and getting off the field on third down go hand-in-hand.
In Washington's first meeting against the Eagles in Week 5, for example, it gained 203 yards rushing and converted 11-of-19 third-down chances. In the rematch in Week 16, the Redskins only managed to run for 122 yards and only had five successful third-down conversions.
However, the Eagles have to be wary of Witten, who always finds a way to be a thorn in their side. Besides leading the Cowboys in receiving in the first meeting this season, Witten torched the Eagles in their two games last year, catching a combined 11 balls for 190 yards and a touchdown.
"He has good size," Johnson said. "Even though you have people around, he always seems like he comes up with the ball. He knows how to work his body to screen the linebacker or safety off. He and (quarterback Tony) Romo have good timing on that. That's the biggest thing. You can have good coverage on him and he'll come up with the catch, just because he's so big and kind of shields people off."
It's just one of the myriad of things that must go right in order for the Eagles' season to continue beyond Sunday.
"Overall, we're just trying to get better and get more turnovers and stuff like that," Johnson said. "It just comes down to trying to win this game and getting into the playoffs. That's what I think about a lot more than anything else."