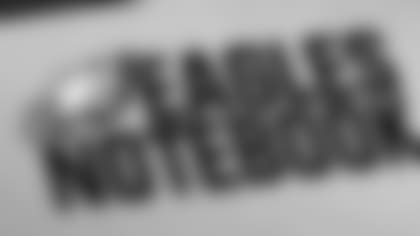 Wild Card Wins ...Under Andy Reid, the Eagles have advanced to the Divisional round of the playoffs seven times during his 10-year head coaching career, more than any other team in the NFL during that time span ... The Eagles improved their record to 4-0 in Wild Card games under Reid, who has guided the Eagles to at least one postseason victory in each of his 7 trips to the playoffs. Reid's nine postseason victories are tied with Tony Dungy for third place among active NFL head coaches, behind Bill Belichick (15) and Mike Holmgren (13) ... It was the Eagles' 10th postseason win under Jeffrey Lurie's ownership, more than all the other Eagles owners combined (8).
Postseason Picking ...CB Asante Samuel had a 44-yard interception return for a touchdown, the fourth of his postseason career, setting a new NFL record. He was previously tied with Hall of Famer Willie Brown. Samuel has 202 career interception return yards in the postseason, which is also an NFL record. It was Samuel's sixth-career postseason interception; tying Ty Law for second place among active players (Rodney Harrison has seven).
Green Akers ...K David Akers tied a team record by connecting on all four of his field goal attempts (43, 51, 31, 45). He also made four field goals on 1/19/02 in a NFC Divisional playoff game at Chicago, as did Luis Zendejas on 12/31/88 in the Fog Bowl at Chicago ... Akers' 51 yarder was the longest in Eagles' postseason history and his 45 yarder was the fifth longest ... Akers has connected on 25 of 29 career postseason attempts and ranks third in NFL history with 25 career postseason field goals behind Adam Vinatieri (42) and former Eagle Gary Anderson (32).
36-West ...RB Brian Westbrook caught a 71-yard touchdown reception, which was the second-longest in Eagles postseason history and tied for the longest play of Westbrook's career. WR Donte Stallworth had a 75-yard touchdown on 1/13/07 in a NFC Divisional playoff game at New Orleans. Westbrook now has six postseason touchdowns (all in his last six games), which is tied with Harold Carmichael and Wilbert Montgomery for the most in team history.
Five Alive ...QB Donovan McNabb connected on 23 of 34 attempts (67.6%) for 300 yards and one touchdown (92.8 passer rating). It was his second 300-yard game in the postseason, the second-best completion percentage and the fifth-best passer rating of his postseason career. He completed passes to eight different receivers, which tied for his second highest in the playoffs (he completed passes to 10 different receivers in his first playoff game on 12/31/00 vs. Tampa Bay).
Action Jackson ...Rookie WR DeSean Jackson had a 62-yard punt return, the second-longest in Eagles postseason history, behind Bosh Pritchard's 79-yard touchdown return on 12/21/47 vs. Steelers. Jackson's 105 punt return yards were the most in an Eagles postseason game since Pritchard's 101 in that same game.
Postseason Experience Stacking Up ...T Jon Runyan started his 19th career playoff game, 2nd among active players behind Brett Favre's 22 ... FS Brian Dawkins played in his franchise-leading 16th career playoff game ... Runyan, Akers and T Tra Thomas each played in their 15th playoff game as members of the Eagles.
Birdseed ...P Sav Rocca's 58-yard punt was the longest for the Eagles in the postseason since Lee Johnson's 64-yarder on 1/19/03 in the NFC Championship game vs. Tampa Bay. Overall, Rocca had four punts (all inside the 20) for a 44.0 net average ... FS Brian Dawkins stripped the ball from QB Tarvaris Jackson for his second-career postseason sack and third forced fumble. It was Dawkins' third forced fumble in the last two games ... RB Correll Buckhalter's 27-yard run was the second-longest of his postseason career ... TE Brent Celek led the team with six catches for 56 yards in his first playoff game ... WR Jason Avant caught five passes for 47 yards, four of which resulted in a first down.