When Liam Jenkins was 14 years old, he received an Xbox for his birthday. It came with one game: Madden NFL 08 with Vince Young on the cover.
Jenkins, a native of Devon, England who never paid attention to American sports before, popped in the only game he had and randomly selected a team to play with. That team was the Philadelphia Eagles.
The chance choice kick-started a love affair between Jenkins and a team that played for a city nearly 3,500 miles away from him. Jenkins learned the players on that Eagles team and began spending time during lunch and study breaks on NFL.com watching "Top 10" videos and game highlights.
By 2011, he followed the team passionately and watched games however he could. At 16 years old, he invested in NFL Game Pass to watch condensed versions the next day and use the All-22 to break down film. His love for American football and the Eagles snowballed.
"When I learned more about the Eagles, because they were the only team I knew about, I really fell in love and resonated with that underdog culture and that sort of gritty philosophy like the whole world's against you," Jenkins said in a phone interview from England. "It really stayed with me and it was the first-ever sports team that I genuinely felt sort of attached to in that way."
That attachment inspired him at 19 years old to start Philly Sports Network, the site the now 23-year-old founded and has run since. From across the pond, Jenkins has made a Philadelphia sports coverage site work.
"I thought, you know what, it would be amazing to combine the passion I have for media and journalism with my love for the Eagles," Jenkins said. "And I couldn't just come to America and be like, 'Hey, I'm going to talk about the Birds for a few years,' because it wouldn't go down well. So, I thought I'd make a website and if it goes well it's a potential career and if not then I'm having fun doing it."
Jenkins picked up exposure by joining just about any Eagles fan page on social media that he could. He worked to connect with fans and share his work while battling the challenge of being taken seriously as a voice in the crowded Philadelphia sports sphere from so far away.
"I think that was always the biggest obstacle," Jenkins said. "When I first started, I was 19 years old, trying to write articles and stuff. No one really had a reason to care about what I had to say, and I totally understand that. It's like, he's British, he's never been to a game, what knowledge does he have, and I always used that as a chip on the shoulder."
In Philly Sports Network's first year, Jenkins covered all five major Philadelphia teams alone. Now, he has nearly 20 writers on his team. The site amassed 400,000 views online just from Jenkins' content in its first year. Last year, it totaled 2.6 million. Jenkins said the site is on pace to break that record this season.
In addition, Philly Sports Network has podcasts, including Jenkins' Outside Insider podcast about the Eagles, and a YouTube channel where Jenkins breaks down film of Eagles players. His channel has more than 3,500 subscribers. Two videos dissecting Jordan Mailata's rugby background and football blocking technique have more than 115,000 views combined.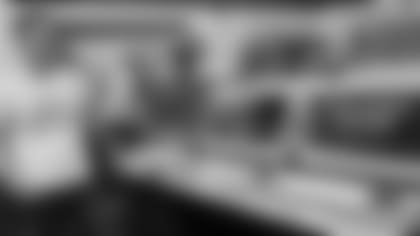 This was achieved with hard work and meticulous study. Jenkins never played football living in England – he said if there were leagues, his 6-3 "lanky" frame would have ruled it out anyway – but he has spent hours of free time watching coaching clinics and tape study to learn the game.
He also has reached out to coaches at all levels. Jenkins spoke with Halapoulivaati Vaitai's high school coach about offensive line technique and former Arizona Cardinals quarterback Richard Bartel about Carson Wentz's footwork.
"You can't be the best at what you do if you're not well-equipped and you have to be ready for any sort of opportunity," Jenkins said. "I know I'm in England. I'm a million miles away. But I want to make the biggest impact that I can, and I can't if I'm not equipped."
Jenkins does all of this while working a second job with Apple from 9 a.m.-6 p.m. He works on the site before work, during his lunch break, on the train home from work, and deep into the night if needed. Sleep is an afterthought. This is especially a challenge with the five-hour time difference. The earliest games start on Sunday at 6 p.m. Primetime games start after 1 a.m.
"Most of the time, I'm OK," Jenkins said. "It's just a lot of caffeine, a lot of energy drinks, and probably taking years off my life every single week. But beggars can't be choosers, right?"
Jenkins' hard work has paid off with legitimacy. Philly Sports Network has game credentials to the Flyers and Sixers. He's included on the Eagles' public relations list. NFL Network's Kyle Brandt recently made an appearance on his podcast.
Jenkins has interviewed Eagles players like former tight end Trey Burton and wide receiver Jordan Matthews. He reached out to Matthews on Twitter in 2016 and although Jenkins said he didn't have to answer a 20-year-old in England, Matthews granted him his first major interview.
"Liam's a nice guy," Matthews said. "Great dude, ambitious. He ended up being a really nice guy who deserved the opportunity. I was happy for him, man. I still follow him and he's doing pretty well now which is great."
When the Eagles play the Jaguars on October 28 at Wembley Stadium in London, a five-hour drive from Jenkins' hometown, it will be a thrill for a dedicated NFL follower who has never been to a game or left England. Jenkins isn't sure if he will attend the event, but he will definitely be in the city for the weekend, interacting with fans, writers, and readers.
As for the rest of the Eagles' season, Jenkins plans to keep pressing Philly Sports Network forward. His passion project has grown tremendously in just a few years with hard work and dedication. In 2019, he plans to evaluate what has worked, what can be improved, and continue growing from across the pond.
"I think it's just trying to complete the picture," Jenkins said. "It's trying to bring in more like-minded people and really push it from a blog to a brand. We know we're putting the content out, it's just can we take that next step ... just keep pushing on and get as big and bad as we can."