For the most part, we thought we knew the prospects in contention to be the 15th overall pick if the Eagles chose to stay put in the first round. Defensive tackles Fletcher Cox, Dontari Poe and Michael Brockers, linebacker Luke Kuechly, defensive end Quinton Coples, safety Mark Barron and maybe quarterback Ryan Tannehill. And sure, the Eagles are always ripe for a first-round surprise, so we considered players like cornerback Stephon Gilmore, wide receivers Michael Floyd and Kendall Wright or maybe even a shocker like tight end Coby Fleener.
But all of a sudden, a player who never came up publically in the conversation for the Eagles' first-round pick is gaining steam as a potential match for Howie Roseman, Andy Reid and co. His name is Chandler Jones and he's a defensive end from Syracuse who measured in at 6-5, 247, at the NFL Scouting Combine and recorded 10.0 sacks in his three years of collegiate playing time. Because of Jones' size and arm length (35 ½ inches), he has been compared to New York Giants defensive end Jason Pierre-Paul, who was measured in at 6-5, 270, with 34 ¾-inch arms during his NFL Scouting Combine.
Jones was first linked to the Eagles' 15th pick by Evan Silva of RotoWorld.com, who wrote, "While not as explosive off the edge (as Pierre-Paul), Jones has some JPPish traits as a long-armed, high-effort pass rusher with loads of 'growth potential.' He'd be the Eagles' left defensive end of the future."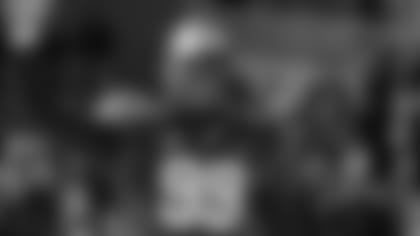 Then, friend of PhiladelphiaEagles.com Greg Cosell published his mock draft, after extensive film study, based on what he would do if he were in charge of each team, rather than where he expects the players to be selected. In it, he too slotted Jones to the Eagles. Here's what he wrote:
"I look at the Eagles' defense and see the need for an inside pass rusher in their sub-package personnel groups. Remember, in the final four games of 2011, the coaching staff expanded the alignment and personnel concepts, often utilizing Jason Babin and Trent Cole in two-point stances as moveable linebackers. Jones has an intriguing combination of size, length and athletic movement. I imagine Philadelphia defensive line coach Jim Washburn looking at Chandler Jones and seeing a better version of Jason Jones, whom Washburn coached in Tennessee for three years."
Is there fire to this smoke? Obviously we won't know the answer to that question until Thursday night, but all of a sudden Jones is a player to keep close on your radar. As for how he projects statistically at the next level, we turn to Football Outsiders' SackSEER, a formula used to project how pass rushers will fare in the NFL. SackSEER notoriously missed badly in its projection of Jason Pierre-Paul two years ago and has since been recalibrated. This year, SackSEER sees Jones as the fourth-best pass rushing prospect, behind three players who all might profile better as 3-4 defensive ends (Perry, Illinois' Whitney Mercillus and Boise State's Shea McClellin).
"Jones's SackSEER numbers are almost perfectly calibrated to endear SackSEER but avoid mainstream attention," writes Nathan Forster. "Jones has mediocre sack production, but a good pass defensed rate. He scored poorly on the only combine metric given substantial attention by the media, the forty-yard dash (4.87 seconds), but scored well on the less-publicized but equally important vertical jump (35.0 inches) and broad jump (10 feet)."
Interestingly, Jones also has some notable athletic bloodlines. His brother Arthur is a defensive end for the Baltimore Ravens and his brother Jon, known better as "Bones," is currently the UFC Light Heavyweight Champion.
So there you have it, as complete a picture of Chandler Jones as we can paint at the moment. It won't be long before we find out just how relevant this all is, and whether Jones has indeed been the apple of the Eagles' eye all along.