The process of going through the Combine, Pro Day, and the anticipation of knowing that you're going to get drafted, but not knowing where, can be stressful for an NFL prospect.
But Notre Dame defensive end and Baltimore native Victor Abiamiri felt the weight lifted off his shoulders when he was chosen by the Eagles in the second round of the 2007 NFL Draft.
"College was a little different because you get to choose where you go. When you get drafted in the NFL, the city picks you," Abiamiri says. "So when I learned it was Philly, I was ecstatic because it was close to home. And I knew not only of how great of a city it is, but I was also excited to get there and really start my professional career."
The only defensive lineman selected by the Eagles that year, Abiamiri was starting his career among veterans who provided the rookie with solid leadership.
"Jerome McDougle, Brodrick Bunkley, Darren Howard, Mike Patterson, a lot of the guys that had been there for at least a couple years, they showed me the ropes," Abiamiri says. "It was a good veteran support system in the locker room. It was a good situation to be a part of."
What wasn't so good was that throughout his career, Abiamiri had to deal with unfortunate injuries – a dislocated wrist, a Lisfranc sprain, a ruptured right Achilles tendon, and a ruptured left Achilles tendon. Those ailments limited him to only being able to take the field for 29 games during his five seasons as an Eagle.
"I think any athlete that has worked so hard to put yourself in the position to be successful, you know what it means. The fact that I was relatively healthy for the most part in college and high school, the injuries began to hit once I got to the pros," Abiamiri says.
"Naturally, you try to rehab and come back stronger. But to me, to try to put things in perspective, sports are a microcosm of life. All you can do is do your best to prepare to excel in the conditions to succeed. As long as you did everything you could do within your control to be your best, that's all you can do. You move on."
Did Abiamiri learn anything about himself going through that experience?
"Resilience. You kind of re-evaluate everything going on. What you're doing. What you did better," Abiamiri says. "It can be pretty difficult to really identify what's wrong, the cause of those injuries. But at the end of the day, feeling these difficult things have happened, no one's going to give you anything. Having the fortitude to pick yourself up and get back in the gym, get back in the weight room, get back into whatever frame of mind you need to do to pick yourself back up, it's an important lesson.
"I went through that time and I worked hard. It's a real gut check. To me, I'm better off today."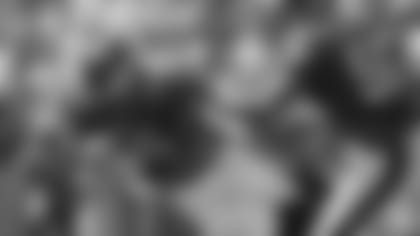 And where Abiamiri is today is in a field that had been in his future since he was in high school – finance.
"I did a couple of internships in high school in the investment industry, as well as in college," Abiamiri says. "I always had an interest in markets, investments. I've always been smart about money and I think that just kind of naturally gave me an idea of what a career in finance would be like.
"My undergrad degree was in finance, and so after that last year in Philly, I knew I kind of wanted to pivot into finance. I knew I had time on my side to figure out specifically the direction. I reached out to a lot of folks in my network and an overwhelming number of them advised me to go back to school, get my MBA. 'If you're serious about a career in the investment industry, by all means, pursue it.' To me, that was really helpful.
"I know a lot of guys have difficulty transitioning from the game, and going back to school was another avenue for me to say, 'You know what? Pick yourself back up. Work hard. Go back to school.' So I went back to get my MBA at Drexel University. I started in 2012 and finished in '13. I learned to network off of individuals that had more traditional career paths."
Making their home in suburban Baltimore, Abiamiri and his wife, Andrea, have two sons: Christian and Julian. He is a partner and portfolio manager at a private registered investment advisory firm that he actually interned at, Brown Advisory.
"I work with individuals, families, and institutions to manage discretionary investment portfolios, to help them achieve their investment goals," says Abiamiri, who has been with the firm since 2013. "Helping people. Every day is not the same. You get to work with different people at different stages of life to really make sense of what's going on in the markets, to help craft an investment plan that makes sense for them at this particular stage. So it's challenging. It's dynamic. It's also rewarding.
"Being a part of the team and collaborating with different people to help achieve our client's goals and having that support system along with my own personal strengths and the skills that I've developed throughout life from playing football, from working hard, it's all been a good mix of things for me to be able to relaunch my career."