As if it wasn't enough, the Eagles were getting more than a four-time Pro Bowl tight end when they traded with Detroit for Jimmie Giles in 1987. They were also adding a proven team leader to their roster.
"I was with the Lions and I was just fed up with pettiness. They really weren't doing anything to win and I was in my 10th year," says Giles, who had also played for Tampa Bay and Houston. "I was tired. I knew that I didn't want to play for them anymore, so I actually had left and came back to Tampa. I was just absolutely excited when I heard that I was going to be playing for Buddy Ryan."
Ryan, Philadelphia's second-year head coach after eight seasons as Chicago's defensive coordinator, was excited too.
"Buddy called and said, 'I just traded for you. And all I want you to do is play for me like you used to play against me,'" Giles says. "And I remember what I said, 'Coach, you will never have any issues with me because that's all I ever wanted to do. Play for somebody that's going to respect me for my talent and reward me for the play that I put on the field.'
"Up until that point, I had never spoken to Buddy Ryan. I'd heard a lot about him from players like (Eagles defensive tackle) Jerome Brown because Jerome lived in the Tampa area and we used to go to the same park to train sometimes. He said, 'Man, Buddy Ryan loves some Jimmie Giles.'"
The following season, Giles added the title of mentor to his résumé when the Eagles drafted Oklahoma tight end Keith Jackson in the first round.
"Buddy Ryan, before he drafted him, he called and said, 'I'm thinking about drafting this kid, Keith Jackson. I want you to teach him how to play football.' Those were his exact words. And I said, 'Coach, I'm here for you and the Philadelphia Eagles. Whatever you want me to do.' And actually, that's what I did. I would coach Keith," Giles says.
"It was a different era, a different breed of players. Keith, he would catch a 5-yard pass and jump up and down and be so excited. And I would just go over there and grab him and say, 'Keith, what have you done? That's your job, to catch a ball. When you score a touchdown to win a game, that's when you get all excited. Stay calm. Keep your composure. Conserve that energy because you're going to need it for four quarters.' I saw him mature."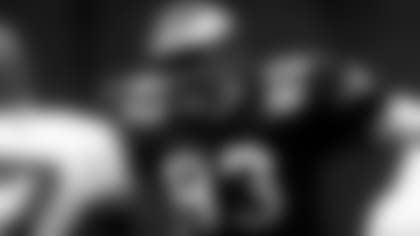 Giles, who went to Alcorn State and is scheduled to be enshrined into the Black College Football Hall of Fame in June, was with the Eagles for three of his 13 seasons in the NFL. With 350 receptions for 5,084 yards in 41 touchdowns, Giles is most proud of something that doesn't involve statistics.
"I think being able to have my family – my wife, Vivian, and three kids: Jimmie Jr., Johnathan, and Candace – see me grow up in the National Football League," Giles says. "They got to experience some of the success that I had, which in turn turned into success for them. To see how a successful football player is supposed to be, and it's made a difference in their lives while they were growing up.
"You have to take things very seriously. Whatever you're doing, you've got to put the maximum effort into it. And when you start something, make sure you give it your all and you finish it. Do it well because people are depending on you. Your teammates are depending on you. It's the same way now with our business, and I use football as a metaphor in our business."
The business that he and his children run is the Giles Insurance Adjusting Company in Tampa, Florida.
"Unfortunately, I didn't make enough money to sustain me for the next 50 or 60 years like they are able to do now," Giles laughed. "So, you have to get into a profession that was going to make some decent money for you.
"I was playing golf with two lawyers and a Class A contractor, and this was in 1992. They used to call me every Wednesday and then all of a sudden, they stopped calling. Nine months later, they call me to play golf again. I said, 'Where the heck have you guys been?' They had just gotten back from working Hurricane Andrew. They said they're adjusters.
"They told me about the business, and from that standpoint, I took it upon myself to go to a claims adjusting school, Vale National, in Harrisburg, Pennsylvania and I learned the trade. They take you through every phase of the business until you got your credentials. And then you have to take an insurance course to become licensed. I did all of that and ended up getting my license. I was able to get into a company and stayed there for 10 years, and ultimately started my own company. And we're the largest minority-owned adjustment firm in the Southeast."