Lem Burnham had a choice to make in 1975 after the defensive end out of U.S. International was chosen by Kansas City in the NFL Draft and by Hawaii in the World Football League Draft.
"The real underlying truth there is when you get a postcard from the Kansas City Chiefs, you don't see much except cornfields and hayfields. And when you get a postcard from Hawaii, you see Waikiki Beach," Burnham says with a laugh. "The postcard from Hawaii was a lot easier for me to decide to forgo Kansas City and join the guys who were going to be relaxing on Waikiki Beach after practice."
Following two years with Hawaiians, when the league folded after the 1975 season, Burnham packed his bags, sans sunscreen, and headed to Canada to play for the Winnipeg Blue Bombers.
Burnham's time north of the border was brief. Deciding to hang up his shoulder pads, he enrolled at Bemidji State University to work on his master's degree in counseling psychology.
In the spring of 1977, Burnham received a call from Eagles Head Coach Dick Vermeil inviting him to Training Camp, and playing football was back in the picture.
Having served for four years as a Marine, including a 13-month deployment in Vietnam, coupled with his time hitting the books in college and hitting quarterbacks in the WFL and CFL, Burnham was 29 years old when he joined the Eagles. Regardless of his age, his previous gridiron experience helped him make a smooth transition from the classroom back to the game.
"I think having those two solid years (in the WFL) where I was a solid starter is what helped me," Burnham says. "The fact that I went to a small school in San Diego, that really didn't matter because I beat guys out who competed with me for the position of starting defensive end. Guys from Stanford, guys from UCLA, guys from Southern Cal, guys from Division I major conferences all over the country.
"I think that's what helped me more than anything. I don't care if he went to Notre Dame, I don't care if he went to Penn State, I don't care where he went, if he got in front of me, my goal and my intent was to kick his frickin' (butt)."
While the Eagles won only five of 14 games in 1977, Burnham had a "frickin'" good first season in the NFL as he was credited with 10 of Philadelphia's 47 sacks.
Collecting six more sacks and a fumble recovery, Burnham helped the Eagles make the playoffs the next two seasons. But because of a strained MCL, he was placed on Injured Reserve in 1980 when Philadelphia posted a 12-4 record, won the NFC Championship, and met Oakland in Super Bowl XV.
Even though Burnham reluctantly and frustratingly spent gam days on the sideline, that doesn't mean he didn't contribute to the team's success.
"I was out for the last week of Training Camp and maybe the first week of the regular season, and I went on IR the third week of the regular season," Burnham says. "But I came back. I was fine, I was ready to go. I practiced every day, and Coach Vermeil and the staff decided not to activate me. I guess they were happy with the guys and the way they were playing.
"And so for the whole year, I was on IR. I practiced hard. My goal was to help get my teammates ready, the offensive linemen in particular. My mindset was, you know what, if they can't beat me in practice, they're not going to be able to beat (Dallas defensive end) Harvey Martin, because that was our major competition to go to the Super Bowl that year.
"And during the Super Bowl, I was standing on the sideline watching with another fella who was not activated because of an injury, Scott Fitzkee. But I was not injured anymore. I had practiced every single day from Week 3 all the way through the 16 regular-season games and the playoffs. Every week, I was expecting that I would be activated. It never happened."
That would be Burnham's final season. In 1984, he earned a Ph.D. in psychology at Temple University, and was the team psychologist for the Baltimore Orioles (1986-94), the Philadelphia 76ers (1988-92), and for the Eagles (1989-92).
He became the NFL's director and vice president of player and employee development in 1992.
"Paul Tagliabue was the commissioner, and when Paul brought me in, he wanted me to develop a department that would serve players and non-players," Burnham says. "It was a combination of psychology and mental health and other services that would be good for players and their families. It was an opportunity to do something that hadn't been done. I was really excited about it. And under my leadership, we got it accomplished. Part of that was the Rookie Symposium.
"The Rookie Symposium was something that was new to professional sports. So we did a lot of groundbreaking stuff and, I think, got players to a point where they became non-resistant to seeking mental help when they felt they needed it. And that, in my opinion, was the biggest accomplishment."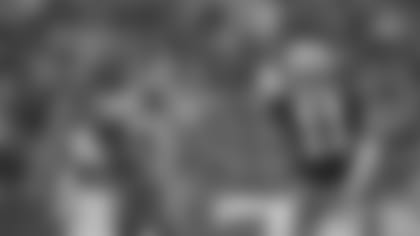 Eleven years ago, Burnham became an associate professor in the College of Social and Behavioral Sciences at Wilmington University. What's it feel like when he sees that he's getting through to the students? That they get it?
"I feel good about that because that's what I'm trying to do. When I'm teaching university students, I'm looking way beyond the content," Burnham says. "This semester I'm teaching emotional intelligence and leadership, and there's a lot of great content there. But more important to me than the content is what are the students learning to help them when they move outside of the walls of the university?
"I try and help students understand the responsibilities they have. I'm their professor, but I'm not responsible for what they learn. I can only present the material. The responsibility for what they learn and how they learn it falls squarely on their shoulders. And that is, in my opinion, the beginning of accepting personal responsibility for yourself, for your actions, and for where you go in life."
Making their home in Woolwich Township, New Jersey, Burnham and his wife, Barbara, have four children and six grandchildren. And what's the best thing about being Lem Burnham today?
"Being able to share life experiences and moving forward with our kids," he says. "When I was at the league headquarters, when I went to Super Bowls, we didn't leave our kids home. We took our kids out of school for Super Bowl week, and they were with us because my wife and I wanted them to have those experiences.
"And now they're able to share that with their kids. So our grandkids understand what their mom and dad experienced. Being able to share those experiences, our grandkids love seeing that stuff and we love sharing it with them. So I guess the best thing about being me is family. I feel we have a great family and great family experiences, and that goes with the young ones, the grandkids. They are the joy of our lives."