The Eagles notched their first win of the 1960 season 10 months before it kicked off when they selected Georgia Tech's All-American linebacker Maxie Baughan in the second round of the NFL Draft.
"Back then, you didn't know who was going to draft you," Baughan says. "I had gotten some letters from some teams that they were considering me and that was about it. It was right before the Hula Bowl and I think they wanted to come down and sign me right then.
"But I said, 'No, I'm not going to do anything until I get back from the Hula Bowl.' And then (assistant coach) Bucko Kilroy came down and signed me and that was it. There wasn't any agent or negotiations or that stuff. You were just glad to get what you could get."
However, before Baughan could join the veterans and other rookies at Philadelphia's Training Camp, he was committed to play in the annual College All-Star Game in Chicago.
"After the All-Star Game, they were already in camp. We flew to L.A. They were playing an exhibition game out there and I joined them the day of the first exhibition game," Baughan says. "That first game, I think all I did was cover kicks. Then we practiced all week and went up to San Francisco and played the 49ers and I played then. So, I was with them a week before I first played."
That would be the only time Baughan was idle during his first season with the Eagles. He became a starter at right outside linebacker, but he was, after all, still a rookie. "Oh, I called Chuck, 'Mr. Bednarik.' He was old enough to be my daddy," laughed the elder-respecting Baughan.
And while he clearly had less experience than Mr. Bednarik, both earned trips to the Pro Bowl, Baughan for the first of five times as an Eagle, and Bednarik for the eighth time in his Hall of Fame career. Both also helped Philadelphia win the 1960 NFL Championship by beating Green Bay in the title game, 17-13.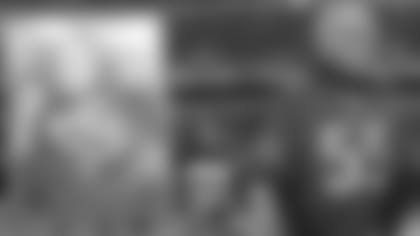 "It was a Cinderella year. We had a seasoned veteran team and then Timmy Brown, Ted Dean, myself, and a couple other guys were rookies, and they worked us in and we got to play," Baughan says. "Bednarik wasn't playing on defense to start with; he was just playing on offense (at center). But then (middle linebacker) Chuck Weber got hurt and he had to come over and play both ways.
"We had guys like (quarterback Norm) Van Brocklin, who was just like a coach on the field, Marion Campbell and Jess Richardson and (Tom) Brookshier on defense. And then they traded right before the season started for Don Burroughs, who was one of the best safeties in the league.
"So, I think it was just a combination of something they had probably been doing for two or three years there. I just happened to be a part of it. Not many rookies get to do what I did. To play on a team and then have the success of winning a championship and play in an all-star game all in your first year."
In 1965, Baughan's sixth year, he collected his seventh career interception and scored the only touchdown of his career on the same play. During a December game in Pittsburgh, he and the Eagles set a team record with nine interceptions during a 47-13 victory.
"It was off of Bill Nelsen. I caught the ball and I hadn't run a football in I don't know how many years ... since high school. I was glad to get in the end zone," he says.
Touchdown? Yes. Keepsake?
"Shoot, no! They'd charge me $50 if I kept that ball," laughed Baughan. "That's one thing. You see all those guys keeping these balls and jerseys and talk about memorabilia and all that stuff. Shoot, you couldn't keep a sock, much less a football or a jersey or any of that stuff. This was a different ballgame. But they did give game balls out and I've got a lot of those things."
Despite receiving his share of game balls and league-wide accolades, following the 1965 season, Baughan decided that the grass may be greener away from Franklin Field.
"I wasn't happy with the coaches and, evidently, they were ready to get rid of me," Baughan says. "I went and told Coach (Joe) Kuharich that I'd like to be traded. This was after the season. He said, 'Where would you like to go?' And I said, 'Well, I live in Atlanta, that would be great. Or New York, that's where all the money is. One of those two would be good.'
"So, when he called me and told me I was traded, I said, 'Where am I going?' He said, 'L.A.' It couldn't be any further away from where I wanted to go. But (Rams coach) George Allen traded for me and the rest is history. It was a great move for me."
Indeed, it was. After being traded for three players, Baughan earned four more trips to the Pro Bowl during his five seasons with the Rams and laid the groundwork for his post-playing career.
"Back then, you were calling your own signals," Baughan says. "Just like a quarterback, everything (on defense) was called on the field, and I did the signal-calling for us. I spent a lot of time with the coaches so I could think like they did.
"I learned more football from him (Allen) than from anybody I ever knew or played under. I found out what football was really all about. That's when I decided I wanted to coach."
Returning to his alma mater, Georgia Tech, as an assistant head coach and defensive coordinator, Baughan honed his skills for the NFL. First as a player/linebacker coach for Washington. And from there, he went on to coach for the Baltimore Colts and the Detroit Lions.
Following a seven-year stint as the head coach at Cornell University, Baughan made his way back to the pros and coached for the Minnesota Vikings, Tampa Bay Buccaneers, and then finally the Baltimore Ravens.
Now retired, Baughan and his wife, Dianne, have three sons: Max III, Mark, and Matt; and eight grandchildren. They're making their home and enjoying time with their family in Ithaca, New York, where Matt is the longtime head men's golf coach at Cornell.