Barry Gardner could not have been happier to be the first defensive player chosen by Philadelphia's first-time head coach Andy Reid 20 years ago, when the Northwestern linebacker was tabbed in the second round, 35th overall, of the 1999 NFL Draft.
"The Eagles are an organization that has an excellent history and it's a great city as far as the fan base is concerned," Gardner said. "With the arrival of Andy Reid and his staff, there was a lot of energy injected into the franchise and the city. So, I was super excited to be a part of Andy's first draft class."
The rookie was quickly impressed with his rookie head coach and with his new veteran teammates, as well.
"Andy was a straightforward guy, a no-nonsense guy, direct and to the point," Gardner said. "I think something that people often miss about Andy is his personality and his ability to relate to young men and inspire them to be the best that they can be on and off the field. His success is a direct result of his attention to detail and the love and care that he puts into his job and into his players.
"It was a great group of guys, a great group of leaders which really contributed to our success as a team. And more importantly to our group of rookies coming in. We had veterans in the locker room that we would sit next to every day, that we were going onto the battlefield with every day, that were able to teach us not just by their words, but by their actions of how to be a professional football player," Gardner added.
After playing four seasons with the Eagles from 1999-2002, contributing on special teams and as a backup linebacker, Gardner concluded his eight-year playing career, which was cut short because of leg and ankle injuries, with the Cleveland Browns and New York Jets.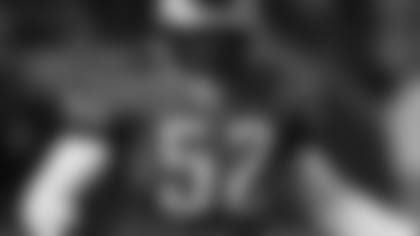 After football, Gardner went to work at the EXOS Athletes' Performance Institute in Phoenix, where he had done his rehab. He ran its pre-draft training process for the linebackers. That led to a position with a player-representation agency, Institute for Athletes, where he headed player development.
"While I spent two and a half years rehabbing, I immersed myself into the business as a whole and learned everything there was to know about the training side," Gardner says. "What that consisted of was getting the young guys ready for the Combine and for the Draft. It also consisted of me developing the offseason programs for our veteran guys.
"And I was helping with all the research that was done in preparation for contract negotiations. As far as draft prep, I was putting together spreadsheets that were telling us what teams' needs were and where the best fits were for our players.
"Some of the acquisition conversations and meetings, I was heavily involved in that. So, I wore a lot of different hats. I like to say I've got a couple Ph.D.s in the representation business."
After nine years, Gardner used that knowledge to start an agency – BeGreat Sports – last July.
"I felt like it was the right time for me to transition and to go on to my own firm," Gardner said. "And bring in former players. That's big for me. In my eyes, who's better to prepare and mentor players than former players?
"I want to build something special. A lot of people in the business, they're great business people. But there are not a lot of former players involved. I think that's what's going to change the dynamic of the game and the business, where players can truly get the valuable knowledge and mentorship to be successful on and off the field from guys who have been there and done that. As former players, I think the respect level is there and we can have a positive impact."
Based in Chandler, Arizona, Gardner's admittedly feeling a positive impact sooner than he even anticipated with 27 clients already on the roster.
"It just shows me that the platform and the foundation that we built, we're on the right path," Gardner said. "And I think other people are recognizing it. Players and families are entrusting us with their children's livelihood.
"There's no class in college to teach these young men or no one's teaching their family members how to pick an agent, or a financial advisor, or what to expect at the next level. And so, our goal is to educate, empower, and impact in a very positive way through information and doing good work."