Mike Schad made NFL history in 1986 when the Los Angeles Rams made the offensive tackle from Queen's University in Kingston, Ontario, the first Canadian to be drafted in the first round.
It turned out to be not so much of a culture shock as it was a learning experience.
"It took me a while to learn the game. Coming from Canada, it was almost like a Division III kind of a scenario," Schad says. "We spent more time in school than we did on the football field, that's for sure. We had seven, eight league games. And that was it. We were done by the end of October.
"I get down to LA and it was a huge, huge, huge, monumental difference in play, the style of competition, speed, strength. I sort of played there a little bit, not very much. I don't know why they drafted me, they had four Pro Bowl offensive linemen."
Following three seasons in Los Angeles, Plan B free agency offered Schad an opportunity to not only see if the grass was greener elsewhere, but also to see if he could land on a team where he had a chance for more playing time.
"I was looking between Pittsburgh, San Diego, and the Eagles," Schad says. "I was thinking San Diego's a much prettier city, but hey, a chance to play and get back to the Northeast was a big goal. So, I ended up signing with the Eagles."
In 1989, Schad stepped into Head Coach Buddy Ryan's starting lineup at left guard. And although he was in his fourth season in the NFL, in a sense, he was beginning from scratch.
"I really learned how to play the game playing against (Eagles Hall of Fame defensive tackle) Jerome Brown," Schad says. "Gamedays were easier compared to playing against Jerome Brown every day in Training Camp or practices. He got so skinny in the hole and so big in the backfield.
"We were doing one-on-ones. Pass block and run block, you go right down the line. Jerome Brown came up and I got a good block on him. He tweaked an ankle or something, and said, 'That's it! I'm not going against Schad anymore. I've had enough going against Schad. I'm done!'
"Buddy Ryan came over and said, 'Schad, you just got the biggest compliment you'll ever get in your career. Jerome Brown is sick of practicing against you because he doesn't want to get hit by you anymore.'"
Praise from his teammate and coach was just what Schad needed to boost his confidence.
"I'll tell you what, in 1989, I felt the weight of the world was on top of my shoulders," Schad says. "And then I got a chance to play and to start. I had a good group of guys around me and I had fun. I really enjoyed myself. It was definitely a roller coaster, up and down. Thank God, I got a chance to play."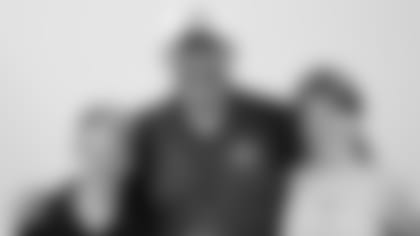 Schad started all 55 games during his Eagles career from 1989-93. He eventually returned to Canada to finish his professional career in the Canadian Football League with the Ottawa Rough Riders.
He then went from the line of scrimmage to the sideline, and was an assistant coach at Temple University for five seasons. Earning a master's degree in business while he was there, Schad decided to change careers.
"College football's not easy. A lot of travel. You're on the road recruiting. You're on the road moving about. It just was a hard life. I wanted to settle down," Schad says. "I had some friends that were in mortgage banking. So, I left Temple and got into that. And now I've been a mortgage banker for almost 20 years. I've been everything from a broker to a correspondent lender.
"I got divorced in 2013, and sort of had a life change. I was working too much and I didn't want to do that anymore. I gave up being a branch manager at Wells Fargo and went back to having just a small shop, being a senior loan officer."
Now working with CMG Financial in Mt, Laurel, New Jersey, Schad thinks being a former Eagle has helped get his foot in the door. And from there, he lets his experience to the talking.
"At one time, I had 15 properties in Philadelphia and New Jersey," Schad says. "I think I developed a lot of insight in being a home owner, being an investor, helping other people with those kinds of things. Not just being a loan officer and providing people with rates, but being what we call a mortgage consultant.
"I have a lot of insight on mortgages, personal finance, housing, investing in real estate. How to set it up from a banking, accounting perspective. So, I've been helping a lot of people put together those kinds of things."
Making his home in South Jersey, Schad has a daughter, Kali; and a son, Colt. He is engaged to Dr. Sonya Tuerff, a vascular surgeon.
What's the best thing about being Mike Schad today?
"Mike Schad enjoys his life today," he says. "He's sort of the captain of his own ship. He gets to spend a lot of time with his kids. He gets to coach his kids. (Colt recently) had a football game at nine o'clock and a soccer game at seven PM. And my daughter plays volleyball, I get to watch her.
"Being a senior loan officer at this point, I can pick and choose times when I work and play. I enjoy a lot of time with my fiancée and her friends and her kids. So, it's busy, it's fun, it's entertaining, and I enjoy every minute of it."