It's rare that a two-time Pro Bowl offensive tackle is on the trade market. Let alone one who is only 27 years old.
So when the Eagles were made aware that Jason Peters was available, head coach Andy Reid was excited to say the least.
"You know how I feel about offensive linemen, so I can't tell you I wasn't excited," Reid said at Peters' introductory press conference Sunday. "Until a couple days ago, you really don't know exactly what is going to go down there. It worked out. If you would have told me that we would be able to get him after Tra (Thomas) left, I didn't think that was possible. It worked out."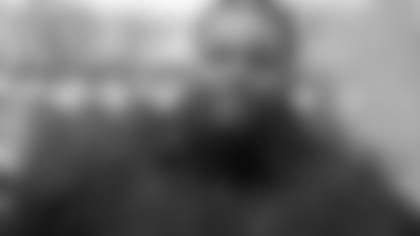 The Eagles' new left tackle, Jason Peters
It took the Eagles' second of two 2009 first-round picks (No. 28 overall), a 2009 fourth-round pick and a 2010 late-round pick to acquire his rights from the Buffalo Bills. Once the trade was out of the way, the Eagles made Peters one of the highest-paid offensive linemen in the NFL with a six-year contract on Friday night.
"It was a good feeling. I was happy. It blew my mind, first and foremost, for them to trade me. I was happy to come over and be an Eagle," Peters said.
The price was steep. But the Eagles believe it will be well worth the bold initiative.
""He's strong in both areas – the run and the pass game," Reid said. "I think he gives you an all-around, complete player there. He has the ability to dominate. They left Jason on an island the whole time the last couple of years and he was able to do that. Their protections are a little different than what we do, but it was nice to see him out there all by himself and have confidence that he can do that.
"The bottom line is we have a group of good, young players here that we feel can come out and handle the great competition in the NFC East from a defensive line standpoint and in the National Football League."
The 6-4, 340-pound left tackle was originally signed by the Bills as a rookie free agent in 2004 after playing the tight end position at Arkansas as a teammate of Shawn Andrews. Former Bills head coach Mike Mularkey offered the tackle position as a chance to get on the field. By the middle of the 2005 season, Peters had won the right tackle job and eventually replaced former first-round pick Mike Williams.
Even though Peters had signed a long-term extension in 2006, he held out of training camp in 2008 after earning his first Pro Bowl and All-Pro nominations. The Eagles contacted the Bills last year regarding Peters and at the time the Bills wanted to work the situation out. After earning his second straight Pro Bowl and All-Pro nods, Peters did not show up for the Bills' off-season conditioning program.
It became evident that if the Bills could get what they deemed good value for Peters, they would move him. And the Eagles swooped in with a monster offer.
"We had an opportunity to get somebody who is proven and has done it in this league and actually played against the NFC East and was successful playing against the NFC East," Peters said. "We didn't feel that the compensation there was too great to do at all. We feel like it really worked out well for us."