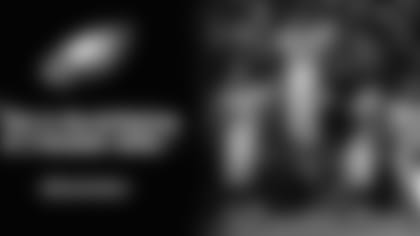 Before the game, Sam Bradford talked with his teammates. He wanted them to play hard and show just how strong this Eagles football team is, even after its less than stellar play as of late. The quarterback was confident this team could pull off the upset against New England, and that's exactly what happened.
In his first start since leaving the Week 10 Dolphins game early with a concussion and left shoulder injury, Bradford went 14-of-24 for 120 yards, two touchdowns and no interceptions. He finished with a 99.3 passer rating, one that was higher than Tom Brady's, who finished the night with a 71.4 mark.
However, this win wasn't just about the offense and its two touchdowns. The team had tremendous help from the defense and special teams, which accounted for an additional three scores. Everyone on the team came together to help record the 35-28 victory and to break the three-game losing streak, which is exactly what needed to be done.
"I don't think you can say enough about the guys in that locker room," Bradford said. "Obviously, I think the last three weeks were tough on us all. I'm not sure anyone outside that locker room gave us a chance to come in here and win today, but we believed in ourselves. We knew we had a chance and we had a great week of preparation. Then to come in here and get the contributions from all three phases tonight, I think this is the definition of a team win."
Going up against a strong Patriots team, the quarterback knew the Eagles needed to score as often as possible. His first touchdown pass of the game came in the second quarter on a 5-yard throw to Zach Ertz. It marked the tight end's first of the 2015 season after having two negated by penalty earlier in the year.
Then, Bradford connected with Jordan Matthews on a 10-yard pass in the fourth to extend the team's lead to 35-14. However, he explained that the plays in between those two touchdowns were what really provided the major spark. A blocked punt returned for a touchdown. A 99-yard Malcolm Jenkins pick-six. An 83-yard Darren Sproles punt return touchdown.
Special teams really made a huge impact.
"It's huge not just for the offense, but for the defense. I think everyone feeds off that," Bradford said. "When our special teams contributes like that, obviously you can't ask for them to score (two) touchdowns every night, but to go out and do what they did tonight I think it just gives us a lot of energy and a lot of momentum on our sideline."
Not only was Sproles a factor with special teams, but he also was a big part of the offensive momentum, picking up 66 rushing yards on 15 carries and 34 yards on four receptions.
In total, the three backs - Sproles, DeMarco Murray and Kenjon Barner - combined for 128 yards, which Bradford believe really helped the team succeed.
"Those guys ran hard today," the quarterback said. "We didn't have a lot of opportunities in the third quarter, but when we had the chance in the fourth quarter I think we went on like a (12)-play, 80-yard drive and the guys up front really started getting great movement and those guys were finding holes. They were running hard, picking up some extra yards.
"I think Sproles did a great job tonight. Like I said, he found some holes that might not have been there. I'm not sure that anyone else but him could have squeezed through some of those and I thought he ran hard. He picked up some extra yards for us tonight."
With this win, the Eagles now sit a half-game behind Washington, which could change depending on the outcome of its game on Monday against Dallas, and are tied with the Giants in the NFC East. With four games remaining, anything can happen. Bradford and the rest of the team are going to keep fighting.
"Obviously this division has been crazy thus far," Bradford said. "After 12 weeks, we're still in the hunt to make the playoffs. Regardless of what your record is, obviously we'd like it to be much better, but if you're still in the hunt at this point in the season then you've got a shot."
A look back at some of the key players against New England that helped lead the Eagles to victory. View the full gallery here...