On the day when he was introduced to the fans of the Philadelphia Eagles and reintroduced to the National Football League, Michael Vick sat at the podium alongside his new head coach Andy Reid and his league-appointed mentor Tony Dungy at the Eagles NovaCare Center and openly discussed the wide range of emotions circulating through his body as he begins the next chapter in his life both professionally and psychologically.
"I've had plenty of time to think about what I did," Vick said, referring to the long chain of events that led to his 18 month incarceration for his involvement in an illegal dog fighting ring. "I was wrong for what I did.
"Everything that happened at that point of my life was wrong. It was unnecessary, and to the life of me to this day I can't understand why I was involved in such a pointless activity."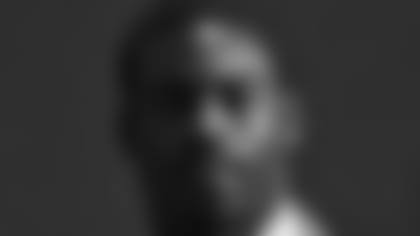 QB Michael Vick
In addition to his remorse, Vick said he was overcome with gratitude to "The Eagles organization, (Owner) Jeffrey Lurie, (Head Coach) Andy Reid, for making me a part of this organization and giving me an opportunity."

"I know everybody's thinking 'Why Philadelphia?'" Vick said. "First off, I think it's one of the flagship organizations - great tradition, great staff, great organization.

"We have a great team in place and I just want to be a part of that tradition and give this team every opportunity to win the Super Bowl."

Certainly the prospect of having the slew of electrifying players like Vick, DeSean Jackson, Brian Westbrook, LeSean McCoy, and McNabb all involved in one offense is something that both excites Eagles fans and brings speculation as to how they can best be used.

"I will say that (Vick) will contribute," Reid said. "You can ask defensive coordinators on other teams if they're worried about that."

The answer prompted Vick's first full smile as an Eagle.

"I've always said to the people of Philadelphia that I would try to bring in the best players that would help our football team achieve its highest goal," Reid continued, "And that's the Super Bowl."

However, Vick made sure to emphasize that it will take time for him to becomes the dangerous player on the field that he was during his time as an Atlanta Falcon.

"I'm considering this my first year," Vick said. "I'm just trying to fit in wherever I can and get acclimated. You have to crawl before you can walk.

"I think this is the perfect situation, the perfect scenario. I can come here and learn from Donovan. He's one of the premier quarterbacks in the game."

Vick directly addressed McNabb during his opening remarks.

"I want to send a special thanks to Donovan McNabb," Vick said. "He's a great friend for reaching out to me and helping to bring me here."

"I spoke to Donovan (earlier) and we just talked about how we're going to go to work, watch as much film as we can, and work out as much as we can."

But Vick was most open when talking about his remorse, especially when he had to ask his children, 7, 4, and 1, for them to give him a second chance to be a better father. Since his release from prison, Vick has worked closely with the Humane Society and worked with helping to eliminate dog fighting, especially in inner city areas.

"I will continue to serve in our community," Vick said, "Continue to do all the right things, and continue to help young individuals out in this world who are going down the same path that I went down.

When asked how he feels about those who are unwilling to give him a second chance, Vick said he understands that position.

"I would hope that they would (forgive)," he said, "But the acts I committed were cruel, unethical, and inhumane. So I understand to a certain degree."

"I figure if I can help more animals than I hurt, then I'm contributing and I'm doing my part."

He then expressed his commitment to doing his best from this point forward both on and off the field.

"I'm grateful for the opportunity to have a second chance," he said, "And I won't disappoint."