Eagles Hall of Fame quarterback Randall Cunningham was at a loss for words.
On June 20, the four-time Pro Bowl quarterback, who was once dubbed "The Ultimate Weapon" by Sports Illustrated, watched as his daughter, Vashti, captured the gold medal in the high jump at the U.S. Olympic Trials, securing her second consecutive trip to the Olympic Games. The medal didn't stay around Cunningham's neck for very long. She raced over to her coach and presented it as a gift. June 20 also happened to be Father's Day.
"My daughter came up with a giant medal with the wood from Hayward Field (site of the Olympic Trials on the campus of the University of Oregon) that they tore down and rebuilt and was like, 'Happy Father's Day!' Right now, I almost have tears in my eyes because she had a goal, and she went out and achieved it," Cunningham recalled in a recent phone conversation.
Vashti Cunningham is America's top female high jumper. She has not lost an American meet since the 2016 Olympic Trials, where she placed second to become the youngest U.S. track and field athlete to qualify for the Olympic Games since 1980 at just 18 years of age. She placed 13th in the Rio de Janeiro Olympics five years ago. Of course, the Tokyo Olympics were supposed to take place in 2020, but organizers postponed the competition for a year due to the COVID pandemic.
"I can tell you for myself, it's been a long, long time in preparation," Randall said. "It's been an experience of really maturing. Thank God that they're young and not at a later age or at the end of their careers. It's also been a good time to rest their bodies."
Cunningham curtailed his daughter's practices from five to six days a week to no more than four during the pandemic. He emphasized mental training almost more than physical preparation.
"The mental aspect of sports, entertainment, being an attorney, being a doctor, the pressure is the main thing you have to get through. When you get in a track meet, you get in a competition, it's just you out there," said Cunningham, who coaches several other track and field athletes in addition to his daughter. "Don't get me wrong. We work very hard. If anybody trained with me, they know that I kind of push it to the extreme when I train."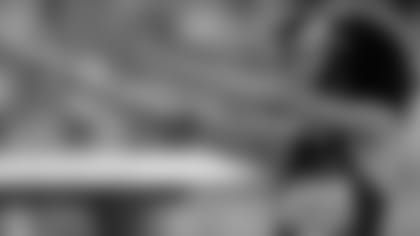 Now 23 years old, Vashti Cunningham is being rewarded for her patience. She is peaking at the right time. In May, Cunningham set her personal record at 2.02 meters (6 feet, 7.5 inches), which is the second-highest mark (2.03 meters) in the world this year. Randall Cunningham added that she cleared the bar on that jump by several inches.
"She's ready mentally," he said. "That's not a problem. We just got to make sure that her body's prepared."
In the weeks leading up to the Olympics, Vashti Cunningham trained in Las Vegas and Santa Barbara, California. To prepare for the time change, Tokyo is 13 hours ahead of Philadelphia, Cunningham slowly adjusted his daughter's sleep schedule. The women's high jump preliminaries are on Wednesday night at 8:10 PM (EST), with the finals slated for Saturday morning.
Randall Cunningham competed in track and field at Santa Barbara High School before putting all of his energy and effort into football. His personal best in the high jump is 2.09 meters (6 feet, 10 inches), which just so happens to be the women's world record. Vashti Cunningham's personal best was just two and a half inches shy of that mark.
"I'm not nervous. I'm excited, man. I'm pumped up. I want her to take it to the next level," Cunningham said of the prospects of his daughter breaking the world record. "I think she has the capability of doing it, whether she'll do it this year or next year or in the future. I'm not rushing that. If it's God's will, that will happen."
It also doesn't hurt that Randall's wife and Vashti's mother, Felicity, was a professional ballet dancer at the Dance Theatre of Harlem.
"Everyone says that she makes it look easy," Randall says of Vashti's elegant jumping style. "She gets that from her mom."
No matter what happens, Cunningham knows how special it is to watch his daughter represent her country at the Olympics, let alone for a second time.
"It's simply been amazing for me because I get to enjoy as a father, as a coach," he said. "The focus is on remaining grateful, working hard, dedicating, and giving God the credit for everything."